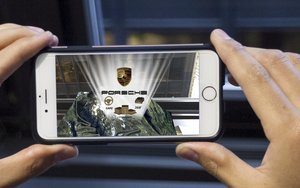 Porsche continues to incorporate technology into its print ads for the 718 Boxster.
A new execution debuts in the September issue of Outside magazine, which hits shelves this week. It is the third in the series of these print ads that started back in March 2015 with a Porsche hologram ad in Fast Company. 
This time, the automaker's ad agency, Cramer-Krasselt, teamed with OMG's Ignition Factory and Blippar to leverage their image recognition technology.
Once readers download the Blippar app, they can hold their phone over the page, allowing an interactive game to pop up on their screen. From there, users have a chance to race up Gotthard Pass, learn about the new 718 Boxster performance features, and record their best time.
The print integration is only one piece of the 718 Boxster launch, which also includes TV, direct mail, event activations, media integrations, digital and social.
Outside magazine reaches those who seek experiences and adventures that epitomize fun, making it the perfect choice to launch marketing of the Porsche 718, says Chris Hanley, svp/group account director at C-K for Porsche.
"Our campaign celebrates those who believe driving should be fun and that with the right car, the right road can be a playground," Hanley tells Marketing Daily. "Ultimately, it was about finding the right place and way to reach them and tap into the shared mindset between audience and car."
The agency brought the idea to life by turning the static world of print into a playground of its own.
"The playground took the form of a multi-page gatefold print ad that opens to reveal an exhilarating drive up the mountainside," Hanley says. "And an augmented reality experience turns the drive into a fun game where you race up the mountain — a virtual playground."
Print is the right medium for reaching the automaker's target consumers, who are "explorers."
"We decided to intersect our target in a place where we knew they were focused on their passions, in this case, outdoor adventure with Outside magazine," Hanley says. "For them, this magazine is a deeper and more engaged read. So the idea and placement needed to play into that."
The piece enables consumers to explore the 718 like never before and explore the print medium in an unexpected way.
"It's our belief when the right magazine with the right audience marries with a compelling idea, print is as effective an approach as it's ever been," Hanley says.
The experience doesn't come without a little gamesmanship. The participant with the fastest time will have a chance to visit the Porsche Experience Center in Atlanta and test their abilities behind the wheel of an actual 718 Boxster. To discover more, users are prompted to visit porscheusa.com/new718.
Source: MediaPost