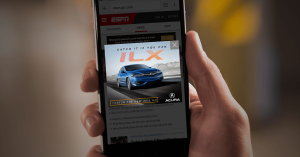 It's no stretch to say that digital advertising can be annoying, and mobile ads even more so as they're harder to avoid. For UK consumers, some mobile ad formats are especially irksome, according to a recent study commissioned by ad tech firm InSkin Media.
Polling of UK internet users in Q1 2017 by mobile market research firm On Device Research found the highest share of respondents (28%) thought pop-up ads were the most annoying mobile ad format, a rate just ahead of the 26% who were most bothered by ads that take over the middle of their mobile phone's screen.
Nearly two-fifths (18%) of respondents were irritated by any ad that slowed page loading. The same share found irrelevant ads—regardless of format—annoying.
There's a good chance that UK mobile users are encountering more potentially bothersome ads. eMarketer expects mobile display ad spending in the UK to reach a new high of $4.39 billion (£3.25 billion) this year, up from $3.33 billion (£2.47 billion) in 2016. Banner ads and text links are predicted to make up most of those outlays, with a value $2.78 billion (£2.06 billion).
A fair share of UK internet users has converted annoyance to action—overall dissatisfaction with digital advertising has led to a rising share of adults in Great Britain turning to ad blocking software. Tracking by the Internet Advertising Bureau UK (IAB UK) over the past two years found the percentage of the market's internet users who used ad blocking software reached its highest level yet (22.1%) in February of this year.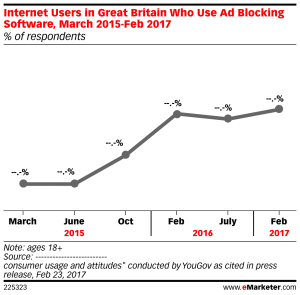 It's worth noting, though, that while ad blocking rates are still rising, young people in the UK appear to be less likely than those in other countries to block mobile ads. A 2016 study by Strategy Analytics that looked specifically at mobile ad blocking rates among millennials in the US and Western Europe found respondents in the UK were less apt to employ blocking technology than their peers in France, Germany or the US.
Not all mobile ad formats are as problematic as those topping the InSkin study's list. That research found ads that move down the page alongside the content or sit at the top and bottom of the page were annoying to only 13% and 8% of respondents, respectively.
Moreover, respondents were 134% more likely to remember ads that move with the content than static mobile ads.
"It's not rocket science; advertisers simply have to put themselves in people's shoes and be more considerate about the mobile advertising user experience," said Steve Doyle, InSkin Media's chief commercial officer. "There are some easy things here. For example, unskippable ads, ads that obscure content or those that don't have a close button should be avoided. If a video ad is autoplay, then at least it should be without sound. If content is hidden by interstitial formats, then they should be easy to close."
Source: eMarketer