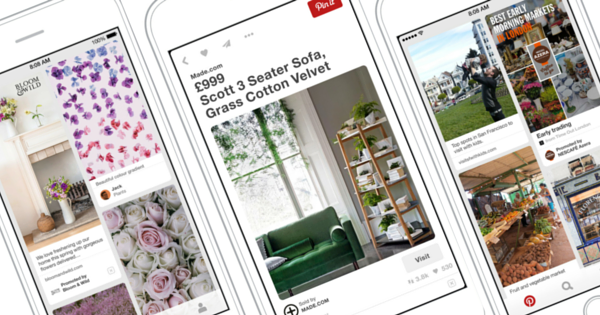 Pinterest's Promoted Pins ad format has landed in the UK, with brands like John Lewis, Made.com, B&Q and Tesco announced as early launch partners.
The visual bookmarking tool, which allows users to curate and share images and ideas via an online scrapbook of 'Pins', made the announcement on April 6.
Promoted Pins, which launched in the US last January, are native ad units which are similar to organic Pins with the exception that retailers must pay to serve them to users. The offering is designed to expand visibility to relevant search results, category feeds and the users' home feeds, and will be available from today onwards to all UK advertisers on a self-serve basis.
Boasting a 100-million strong global userbase, the US-based platform said it has noted strong growth in the UK over the last 12 months. Reports published last year suggest that Britons pin up to 1.6bn items per day, showing a particular interest in the DIY, recipe and home decor sections.
In order to widen its UK presence, Pinterest's commercial team spent the best part of 2015 deepening relationships and striking up partnerships with the likes British brands like Marks & Spencers, Tesco and Manchester United. Across the Atlantic its made forays into retail, most notably introducing a 'Buy' button, for which it signed up stores like Macy's and Nordstrom to sell via.
The push will undoubtedly scale up what Pinterest currently offers to UK advertisers, but as with Instagram it will have to tread carefully when rolling out the new product so as not to disrupt the community-feel of the site while carving itself out as a point of differentiation in the social space.
This will be helped by the design element; Promoted Pins essentially take the same format as organic content apart from the fact they are signposted as paid-for.
In terms of data, conversion tracking pixels will give brands the scoop on where a person ends up on the retailer's site once they click on the Promoted Pin and what they end up with in their basket should they make any purchases.
One brand "chomping at the bit" to debut its Promoted Pins is designer furniture store Made.com, which has been active on the platform since 2012.
Through native content alone the firm has experienced a 173 per cent increase in revenue that came directly from Pinterest, a spike its social project manager Hannah Pipel called "kind of crazy." It has also made use of the platform's Rich Pins, which pull in content from advertisers' websites and update changing factors, such as price, automatically.
Source: The Drum