Instagram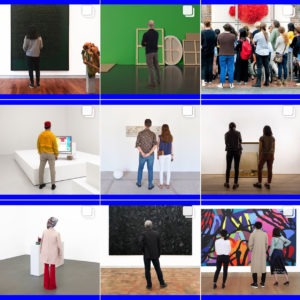 is the social media meeting point for the art world: it's where the public, galleries, museums and artists showcase their videos and pictures.
All while rendering art more accessible and shareable, it has its limitations, offering masterpieces squeezed into tiny 1080px by 1080px.
#BACKTOART is a controversial call to action from Perrotin – an Instagram strategy created by BETC, to encourage people to put their phones down and go and watch art live.
Resisting the temptation to immediately reveal the artwork entirely, each photo instead shows the public facing the art – the pieces are partly hidden behind a person admiring them. While Instagram posts usually reveal the entirety of the artworks and exhibitions, Perrotin uncovers them progressively, as a way to make people want to see what's behind the person. The back views of people facing the artworks plays with the conventional codes of social media and places the art at the center of interest. The art becomes the object of desire.
Intriguing and inviting, the new strategy that rolls out in April 2018 has a clear message: Consume art actively instead of passively – confront yourself to art, take the time to experience art live, go down to the gallery.
A New York City bus stop shelter ads campaign will run in the streets of the city for two weeks, inviting people to visit the exhibition of Takashi Murakami at Perrotin New York.
The #backtoart movement can be viewed at the Perrotin Gallery Instagram page, @galerieperrotin.
Source: BETC Paris