More brands are developing their own augmented reality experiences, as the expense and technical ability needed to produce them have decreased and the desire for mobile entertainment has grown. Oreo is the latest, building its own mobile gaming app called "The Great Oreo Cookie Quest," which engages users with a virtual scavenger hunt.
Oreo's game gives users clues to find virtual Oreos in the world around them. Using object-recognition technology, the app can detect whether an object is correct and reveal hidden Oreos. For example, a daily clue like, "What puts hands on your wrist?" will prompt users to scan their watch, revealing an Oreo on their phone's screen. Each virtual cookie is assigned a point value based on how difficult the clue is, and in a leaderboard, users can see how they compare to their friends on Facebook or Twitter, as well as users around the world. Users can scan real Oreos to enter a sweepstakes to win a trip to either Google's headquarters in California or a trip to Africa.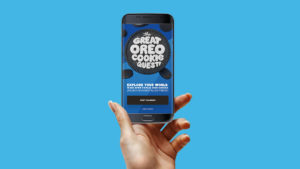 "The Great Oreo Cookie Quest" involves Oreo's partnership with Google, which began in August 2017. Prizes are randomly attached to virtual Oreos, and many are Google-related. For instance, users can win Google Play points or Pixel phones. In Europe and Latin America, the game connects even more with Google. There, the game will be promoted with an image of the Google Android robot.
The game is similar to that of "Pokemon Go," which launched in 2016 and was one of the first popular AR games, where users search for virtual Pokemon in their surroundings. Users can even store their Oreos in their "Cookiedex," like the Pokedex in "Pokemon Go."
"We learned a lot from looking at cases like 'Pokemon Go' in terms of best practices for keeping players engaged, sharing with friends and building a groundswell movement about it," said Justin Parnell, director of brand marketing at Oreo.
The Martin Agency created the game, which took six months to produce, with the help of partners Carat and Gravity Jack. It launched on iOS and Android at the end of January in the U.K. and will roll out across Europe, Russia, Latin America and perhaps the U.S. depending on its performance.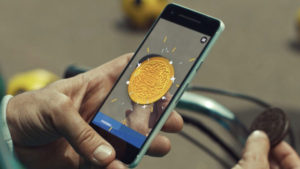 "We wanted to create a proprietary property that allowed us to do exactly what we wanted with regards to object recognition, in an environment that was 100 percent Oreo," said Andrew Watson, vp and creative director at The Martin Agency. To promote the game, The Martin Agency is rolling out one spot for TV and four for social.
While it's Oreo's first social AR game, it's not the first time the brand has used object-recognition technology. In February 2017, Oreo worked with Google on the Oreo Dunk Challenge app. Users scanned Oreos in the app and then, with the help of Google Earth, launched them into the stratosphere before dunking them into a glass of milk in different locations around the world.
"People are spending more time on mobile than any other device, and they are using it more and more for entertainment," said Parnell.
Source: Digiday UK