Though mobile payments have experienced only modest growth in the last year, the frequency of in-store mobile payments has increased significantly among one key demographic—25- to 34-year-olds.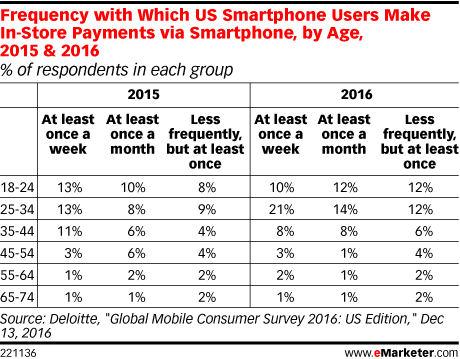 According to the December 2016 Deloitte Mobile Consumer Survey, which polled 2000 US internet users ages 18 to 74, older millennials are twice as likely to make mobile payments at least once a week than are 18- to 24-year-olds. And they are almost three times as likely to use the technology weekly than people ages 35 to 44.
Plus, while the number of 18- to 24-year-olds making mobile payments on a weekly basis dropped from 13% to 10% over the past year, the number of 25- to- 34-year-olds doing so grew from 13% to 21% since 2015.
The number of those ages 25 to 34 making mobile payments on a monthly basis nearly doubled as well, increasing from 8% last year to 14% in 2016.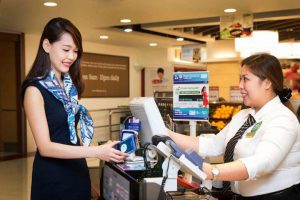 Transferring money was the most common activity, according to the survey, with 40% of respondents saying they did so. Thirty-nine percent of respondents said they made mobile payments at coffee shops, up from 31% last year, and 39% checked out with their mobile devices at fast food joints, up from only 25% last year. Paying at a restaurant, grocery store or clothing store were other situations in which consumers paid using their smartphone.
Aside from making more mobile payments, older millennials are increasingly becoming the most active smartphone users. More than three-quarters of 25- to- 34-year-olds check their phones in the middle of the night, and the group often shows higher usage patterns than those ages 18 to 24 throughout the day, according to the report.
Unlike in past years, 25- to- 34-year-olds were also most enthusiastic about new devices. Forty-four percent said they buy the latest devices as soon as they hit the market, compared to only 23% of 18- to 24-year-olds, which showed the greatest enthusiasm in past years.
Source: eMarketer