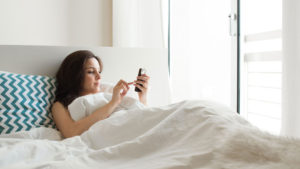 78 per cent of people in the UK now own smartphones, as the number of mobile calls they make falls for the first time with people turning to platforms like WhatsApp and Messenger more than ever.
Despite mobile usage continuing to increase, the always-on nature of Brits means they are turning away from making calls and instead utilising internet-connected messaging platforms to stay in touch with friends, family, and colleagues. And, with this, 64 per cent say that the internet is now an essential part of their life, according to Ofcom. Meanwhile, 75 per cent of smartphones users consider using a mobile to make calls as being important, compared to 92 per cent who value the importance of mobile web browsing.
This need for constant connection to devices means that Brits now check their smartphones every 12 minutes while they are awake, on average, and 40 per cent even look at their phones within five minutes of waking up – a figure that climbs to 65 per cent among those aged under 35. On top of this, 37 per cent of adults check their phones five minutes before laying their head down for the night, rising again for under 35s to 60 per cent.
Elsewhere, the proportion of people using their mobiles to access the internet has increased from 20 per cent nearly a decade ago to 72 per cent this year. And the average time spent going online on smartphones is two hours 28 minutes a day – rising to three hours 14 minutes in the 18 to 24 age bracket.
Our reliance on smartphones is even more evident in that 72 per cent of Brits say their smartphone is their most important device for accessing the internet, 71 per cent never turn off their phone, and 78 per cent say they couldn't live without their handheld devices.
"Over the last decade, people's lives have been transformed by the rise of the smartphone, together with better access to the internet and new services," said Ian Macrae, director of market intelligence at Ofcom. "Whether it's working flexibly, keeping up with current affairs or shopping online, we can do more on the move than ever before. But while people appreciate their smartphone as their constant companion, some are finding themselves feeling overloaded when online, or frustrated when they're not."
With continuing rise of the smartphone, there are questions amongst Brits over what constitutes correct smartphone etiquette. 81 per cent of Brits don't agree with people using their smartphones during meal times, while 76 per cent find it annoying when someone is listening to music, watching videos, or playing games loudly on public transport.
The generational divide is more evident in some areas more than others. 53 per cent of adults usually use their phones while watching TV with others. However, 62 per cent of those of 55 think it's unacceptable and just 21 per cent of 18 to 34-year olds agree with them.
Our need to be connected at all times even extends to our commutes into work. 42 per cent of people find it's essential to be online while on their way to work to deal with tasks in their personal life – with 35 per cent feeling the same about their professional life.
Source: Mobile Marketing Magazine