Verizon's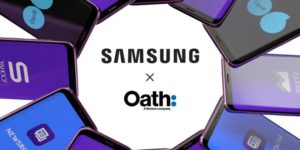 Oath is teaming up with Samsung to deliver both media and advertising content through Bixby Home on Galaxy S9, S9+, S8, S8+, and Note8 devices.
The partnership will enable Samsung customers to keep up-to-date with content from Yahoo Sports, Newsroom, Yahoo Finance, and Go90. Meanwhile, native ads via Yahoo Gemini will be distributed within Galaxy apps and Game Launcher experiences on eligible devices.
"Our advertiser and publisher partners will benefit from Oath's increased mobile visibility thanks to Samsung, to build content partner brands around the world," said Dave Bottoms, VP of product management at Oath, and John DeVine, CRO at Oath, in a post. "With Oath's top apps on millions of Samsung devices, this will significantly expand our high-quality, mobile native ad inventory, available exclusively through Oath. Oath is committed to world-class partnerships like Samsung that transform the mobile experience. This deal demonstrates Oath's ability to transform its established house of brands to be mobile-best, backed by the power of Verizon and a partnership with the world's largest smartphone manufacturer."
As it stands, Oath has become Samsung's premiere content partner on Bixby Home in the US, though there are plans to expand across global markets later in the year.
Source: Mobile Marketing Magazine