Verizon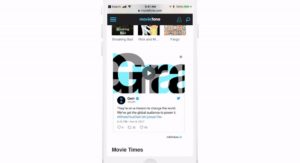 subsidiary Oath has begun rolling out four new ad formats, which were initially announced back in December 2017, with a focus on augmented reality (AR), native advertising, and social.
The AR mobile ad unit has been designed by Oath's Ryot team and is powered by Yahoo Gemini. It enables consumers to click to access an ad via an Oath content experience such as Yahoo Mail. This format has been tested by brands including The Home Depot and Pottery Barn.
Also powered by Yahoo Gemini, the native ad format uses a full screen canvas to 'maximise creativity and consumer engagement'. It will be available across all Oath mobile apps, which include HuffPost, Yahoo Finance, Yahoo Sports, and more, and has been tested by Intuit.
There's also a 'utility' ad format, which has been created to enable users to save coupons and deals to their mobile wallet. When consumers tap to engage with the app, they're given the option to save special offers to their mobile wallet. This can also be used to alert customers to special deals via mobile lock-screen notifications.
Finally, the social format is an interactive ad which 'extends a brand's voice beyond the social newsfeed'. It aligns photos, videos, and hashtags with content and audiences across Oath's properties.
"It's a massive priority at Oath to simplify, strengthen and scale our creative ad portfolio globally across mobile, display, video, native and social," said John DeVine, CRO at Oath, in the original blog post. "We will deliver a better ad experience that's mobile-best and consumer-first."
All of the ad formats are available for testing in the UK, France, Italy, Germany, Spain, Canada, and Singapore.
Source: Mobile Marketing Magazine