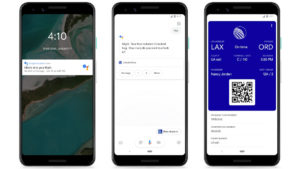 Google has been working hard recently to make travelling easier – implementing several features on Assistant to help with those on their journeys. Now, users can check-in for flights and help with booking in for hotels.
Soon, users will be able to check in for their flights, and save and retrieve boarding passes on Google Assistant via both Android and iOS smartphones. The feature will first work on domestic flights in the US serviced by United Airlines.
If flight confirmation from United Airlines is in Gmail, Assistant will send a notification to the user's phone to remind them that check-in is available. Users can also say "Hey Google, check-in to my flight" to get Assistant to check-in for them. This can be followed up with "Hey Google, show me my boarding pass".
In addition, Assistant can now be used to book hotels. By saying "Hey Google, I'd like to book [insert hotel name and location] on [insert date]" users can view availability, different pricing options, and then reserve a room using Google Pay. The feature is currently available in the US on both Android and iOS.
Source: Mobile Marketing Magazine