The New York Times has embedded a 360-degree video experience within its mobile website for the first time, in a move that could significantly increase audience exposure to the format.
The paper already offers 360 degree through its designated app, NYTVR, which can be viewed either using the Google cardboard viewing set, or on the screen of a smartphone. But this is the first time viewers of its mobile site will see the content.
The interactive video, created by the newspaper's internal production company TBrand Studio, using tech from OmniVert, is piece of sponsored content in association with GE.
An animation with scenes of nature and cityscapes mixed in with psychedelic visual touches, it discusses the ways that nature has influenced manmade technology – for example, how birds' feathers are studied when designing jet engines. The video, when clicked, links to a sponsored article on the same topic.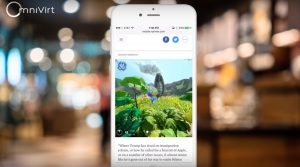 OmniVert's chief executive Brad Phaisan said that it was becoming clear that "publishers were going all in on virtual reality, but the biggest challenge for these publishers and their brand partners has continued to be distribution of that content. Everyone is talking about VR, but to date it has been unclear how to get that content in front of audiences."
He added: "Rather than limiting consumption of this VR content to a special app or platform, The New York Times took advantage of our technology to enable its audience to view this content across all of its properties and the rest of the web."
The NYTVR app offers content like "Pilgrimage", which follows Muslims on the journey to Mecca, "Man on spire", which sees mountaineer and filmmaker Jimmy Chin scale the new World Trade Centre in New York, and "The click effect", about the communication used by dolphins and whales.
Source: Campaign Live