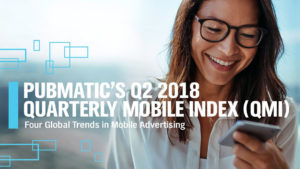 PubMatic, the publisher-focused sell-side platform (SSP) for an open digital media future, released its second Quarterly Mobile Index (QMI) of 2018, which identifies trends in mobile advertising for Q2.
The report includes key points around growth in mobile app advertising, highlighting trends in mobile video, private marketplaces (PMPs) and the expansion of cross-channel monetisation. The findings provide in-depth insights for marketers and publishers on how to take advantage of programmatic opportunities in mobile.
The study found that mobile ad spend increased by 25 percent year-over-year in Q2 and is intensifying worldwide. PubMatic's report also highlights mobile app advertising opportunities – driven by PMP and video – that are continuing to flourish.
Aligned with the growing consumer preference of app versus mobile browsers, ad budgets are increasing and advertisers are leveraging in-app PMPs in their ad spend, both to improve ROI as well as add another layer of fraud prevention.
"We are continuing to see the rise of in-app at the core of programmatic ad spend. As consumer engagement steadily shifts to mobile app environments, and the potential for both publishers and advertisers to capitalise on this trend is huge," said Paulina Klimenko, senior VP of corporate development at PubMatic. "At PubMatic, we are committed to providing publishers with the technology and tools to monetise this growing audience while also pushing for the same quality standards for apps that we have seen emerge for desktop and mobile web."
Marketers should also be aware that ad spend is swiftly shifting away from desktop video toward mobile. Within the last year, mobile ad spend has increased by 239 percent, including 688 percent year-over-year growth via apps and 73 percent year-over-year via mobile web in Q2.
The data from PubMatic's Q2 2018 QMI Report also highlights notable growth of mobile advertising in the sports vertical as the World Cup boosted mobile ad spend by 50 percent above the weekly average worldwide in Q2 2018.
QMI Methodology
PubMatic's yield and data analytics team analyses over 12 trillion advertiser bids on a monthly basis, utilising the company's best-in-class analytics capabilities. The Q2 2018 QMI incorporates impressions, revenue and eCPM data from these reports to provide a high-level analysis of key trends within the mobile advertising industry.
Data is from the second quarter of 2018 (i.e., April 1, 2018 to June 30, 2018), as well as the corresponding prior year periods. "Monetised impressions" or "paid impressions" are defined as impressions that were sold through the PubMatic platform, and "eCPM" is defined as the effective cost per one thousand impressions.
Source: PubMatic