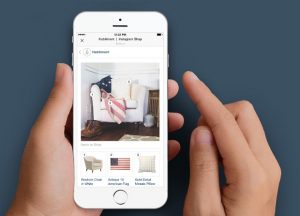 Curalate has launched in the UK, with Farfetch and Lipsy among more than 50 European brands already working with the US-based digital marketing technology company.
Its 'discovery-driven commerce' platform enables retailers to leverage visual content from a variety of sources and make it fully shoppable for consumers.
Curalate's technology tags each image and video with the products it contains, and then allows the brand to make the same content shoppable in every location it appears online.
With Curalate, any image or video including aspirational lifestyle campaigns and user generated content (UGC) found anywhere on the web – including social media networks, blogs and email – lead to consistent, compelling shopping experiences for consumers.
Founded in the US in 2012, Curalate works with over 800 retailers including Urban Outfitters, Neiman Marcus and Sephora. The company is an official marketing partner of Pinterest, Facebook and Instagram.
"Browsing the aisles of a store is great for consumers discovering products, but there's no equivalent to that discovery experience on a brand's ecommerce site," said Apu Gupta, CEO of Curalate. "We're changing this by creating compelling shopping experiences wherever a consumer discovers a brand's products online, and we've seen retailers increasing revenue per site visit by as much as 50%."
Curalate's commerce platform sits between a retailer's marketing channels and its online store; introducing consumers to products they never knew existed, and helping them to make buying decisions.
"Curalate is engineered for the future of e-commerce, which is based on discovery rather than search," Gupta continued. "As demand for paid search and costs go up, retailers are seeing diminishing returns. We help them to sell both on and off their websites. The technology drives discovery and commerce at scale."
Source: Net Imperative