Moët & Chandon,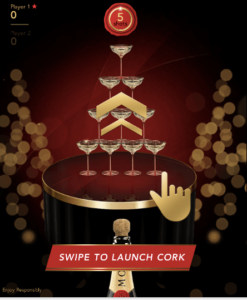 the champagne brand owned by LVMH, returns to Snapchat for a mobile campaign scheduled to run from Valentine's Day through Mother's Day, according to AdExchanger. The "Love Unconventional" effort seeks to engage users with a mobile game that was first introduced for a holiday promotion leading up to New Year's Eve.
The mobile game challenges users to shoot corks at a tower of champagne glasses. Winners then get to collaborate on a love poem generated with input from modern poet Cleo Wade. Ad placements will also appear throughout Snapchat Discover, the social platform's section for professionally produced content. The company will also place ads on Facebook and Instagram that direct users to a browser-based version of the game.
Results from the beverage brand's New Year's game led Moët to run the game again, Christine Ngo, marketing director and head of U.S. customer engagement, told AdExchanger. The cork-shooting game had a 70% completion rate, a 92% replay rate compared with Snapchat's 20% average and garnered 450 hours of playing time over the first two weeks.
This effort shows how a luxury brand can leverage Snap's ad targeting tools to reach an audience that's interested in luxury, wines and spirits. Moët appears to be making a smart move leveraging the image-sharing app that's used by more than 178 million daily active users worldwide, as Snapchat's audience is a desirable group with a higher-than-average household income, per AdExchanger. At the same time, more than a third of Snapchat users (35%) can't be reached on Facebook and Instagram.
Moët is returning to Snapchat for its love-themed campaign after seeing solid results for its similar holiday push. That kind of engagement led the company to reuse the game for the new promotion with a timely themed twist for Valentine's Day.
The biggest concern for any alcohol brand that runs a campaign on Snapchat is ensuring its ads don't inadvertently target children and teens who have flocked to the mobile messaging platform.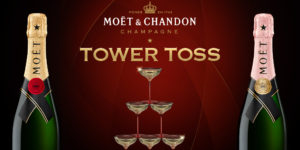 Alcoholic beverage producer and distributor Diageo last month suspended all Snapchat advertising after the Advertising Standards Authority (ASA), the U.K.'s advertising watchdog, said the company failed to ensure that a campaign for Captain Morgan rum wasn't seen by underage groups. Heineken and William Grant & Sons distilleries, owner of Glenfiddich whisky and Hendrick's Gin, have been reluctant to place ads on Snapchat because of age concerns that could damage the brand's image.
Moët is targeting people ages 25 and older to widen the distance from underage users. However, that assumes that Snapchatters have voluntarily told the truth about their age when registering their account on the platform. Snapchat CEO Evan Spiegel said in a conference call with investors that his company reaches more than 70% of the 13- to 34-year-old population in the U.S., France, the U.K. and Australia. He didn't provide a breakdown of teen users, but eMarketer estimated that Snapchat has 1.2 million users under age 11 and 15.8 million between 12 and 17 in the U.S.
Source: Mobile Marketer