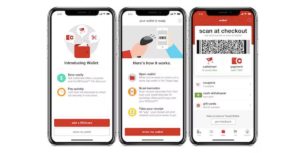 US retailer Target has embraced the mobile payments revolution with the launch of 'Wallet', a proprietary app that enables shoppers to check out in store via their smartphone by scanning product barcodes.
Customers will benefit from exclusive perks such as coupons and discounts simply by utilising the technology through special barcodes that introduce savings at the point of sale, functionality that already existed but is now augmented by the ability to pay using a Target Redcard.
The dedicated card acts as both a debit card and store credit card, offering 5% cashback on purchases and speedier checkout than a standard chip and Pin card.
Mike McNamara, Target's chief information and digital officer, wrote: "Wallet in the Target app makes checkout easier and faster than ever. Guests are going to love the convenience of having payment, Cartwheel [a coupon clipping service] offers, Weekly Ad coupons and GiftCards all in one place with Wallet."
A glut of dedicated payments systems have been introduced by High Street retailers in recent years, including Walmart, CVS and Kohls, all eager to reap the benefits of both cost savings and access to rich customer data.
Source: The Drum