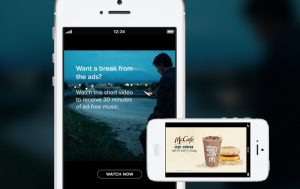 A joint study by music streaming service Spotify and WPP-owned investment management firm GroupM claims that mobile music streaming represents a $220m (£179m) opportunity for advertisers that is not being taken advantage of.
GroupM and Spotify have a multi-year data and research partnership aimed at studying streaming media consumption and finding new ways to monetise the data gathered through such services.
According to the study, 60 per cent of streaming activity is now carried out via mobile devices, and much of it can be closely linked to 'moods and moments' that will enable marketers to more accurately target consumers and reach them with messages at the right time.
"For brands and marketers, these on-demand, on-the-go streaming services have the potential to provide unprecedented levels of consumers understanding," said Rob Norma, chief digital officer for GroupM and chairman of GroupM North America.
"With streaming data, you don't just get a basic demographic snapshot, you get to know what songs, artists, and playlists people are listening to – which can help you determine what they're doing, how they're feeling, or even what they're thinking at the exact moment you want to reach them. This level of contextual data could take segmentation to an entirely new level, letting advertisers reach a hyper-specific, targeted audience at key points throughout their day."
The study, which covered seven different markets including the US, UK, Canada, France and Australia, found that almost half of all internet users are streaming entertainment content weekly, with streamers tending to be younger and with higher incomes.
While the TV and movie streaming landscape is dominated by paid subscription services like Netflix, Amazon Prime and Hulu+, 15 per cent of the internet-using population globally uses strictly free, ad-supported services for music streaming, opening up new paths to a huge number of consumers. And with 69 per cent of music streaming happening by mobile, this is a largely mobile opportunity for brands and agencies.
The $220m figure cited by the study is for the newly unlocked 'at work' and 'workout' streaming moments that advertisers can now reach via streaming services. These times were traditionally difficult to reach consumers with advertising, in particular via mobile, but the growth of streaming music services has opened them up.
"The reason streaming provides a uniquely personal, powerful set of data is because it's a uniquely personal, powerful way to interact with media," said Alex Underwood, vice president and head of global agency & partnerships at Spotify. "That's another huge reason the future of the industry presents such remarkable opportunities for brands and marketers—it's a new chance to connect with consumers on an inherently personal, intimate platform.
"Whether it's a streamer listening to Drake with noise-cancelling headphones on their commute, or watching the next season of Stranger Things in their bed, streaming provides an entirely new format for users to engage with the media content they want, in the setting of their choice. As a result, marketers have a unique opportunity to reach individuals with direct messaging, tailored specifically to the person streaming and the context they're in."
Source: Mobile Marketing Magazine