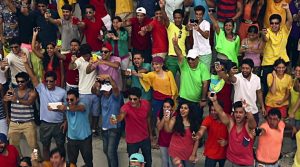 Television continues to be the biggest advertising platform in India, but mobile ad spend is growing rapidly and is expected to increase by 85% in 2017, according to the latest estimates from eMarketer.
The New York research firm forecast that overall digital ad spend in India will rise to $1.21bn this year with further double-digit growth for mobile expected over the next four years, even if the rate of growth slows from the 110% recorded in 2016.
Mobile ad spend is forecast to grow 75% in 2018, 40% in 2019, 28% in 2020 and another 20% in 2021, when mobile will account for just under 62% of all digital ad expenditure of $2.8bn.
The boom is attributed to rising smartphone sales, affordable handsets and data prices, which eMarketer says is encouraging advertisers to increase their budgets for mobile. The trend shows little sign of slowing, with the research firm estimating that smartphones will account for 36.6% of all mobile phone users in 2017, rising to almost half 47.4% by 2021.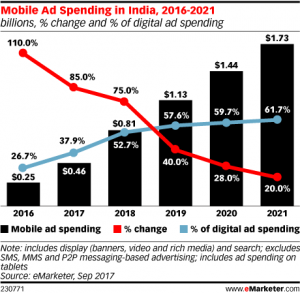 In addition, mobile social networking is expected to increase 24.3% to reach more than a quarter (26.8%) of all mobile phone users and three-quarters (74.9%) of social network users.
However, the development should not be seen as the demise of television because TV is expected to take 39.3% of all media ad spend this year, equating to $3.13bn.
Commenting on the research, eMarketer's Senior Analyst Shelleen Shum, said: "While television continues to be the most popular advertising medium, digital is the fastest growing, with ad spending recording double-digit growth rates up to 2021. Driven by increasing mobile internet penetration, falling data prices and the availability of low-cost handsets, mobile will be a major contributor to the growth of digital advertising in the years to come as marketers embrace this channel to reach a new generation of young and digitally savvy consumers."
Source: WARC