The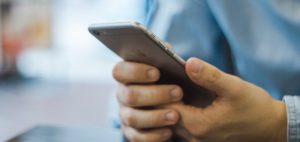 younger small business owners are, the more likely they are to build a mobile app to support their business, according to a new survey by Clutch, a B2B ratings and reviews firm.
Fifty-five percent (55%) of millennial-owned businesses have a mobile app, compared to 13% of small businesses owned by baby boomers. However, even as more small business owners of all generations recognize the value of mobile apps, small business app growth has stagnated, the survey finds.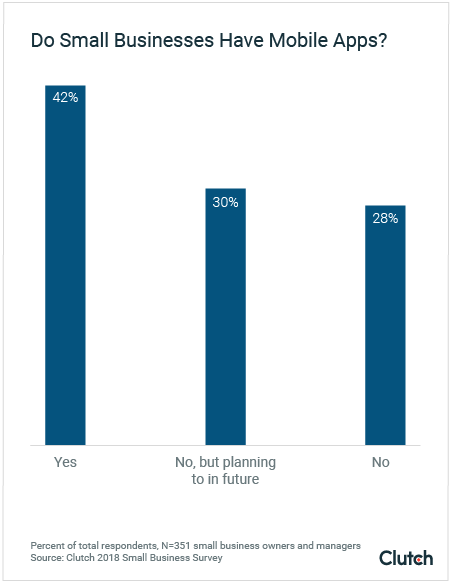 In 2017, Clutch found that 42% of small businesses had a mobile app, and another 25% planned to build one by the end of the year. The 2018 survey reveals no change in the 42% of small businesses that currently have an app.
This finding does not surprise experts, given that building a well-crafted mobile app requires significant resources. "With less capital and smaller teams, I would expect these barriers to be even harder for smaller business to overcome," said Woody Zantzinger, vice president of business development at WillowTree Inc., a mobile app development company.
Businesses Need to Consider Goals of Mobile Apps
Small businesses should ensure they are building a mobile app for the right reasons, say experts. Nearly 30% of small businesses surveyed say they primarily built a mobile app to attract new customers. Experts say this objective is misguided since most customers don't browse for apps. Rather, they seek out apps for a particular purpose.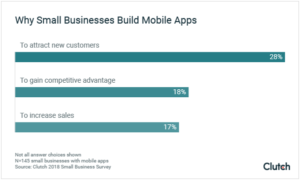 If and when a small business decides to build a mobile app, experts advise that the goals and target audience be clearly defined. "The more rigorously you assess whether to invest or not to invest in a mobile app, the better," said Peter Mezyk, chief operating officer of Nomtek, a mobile application development agency in Poland.
Mobile Apps Build on Existing Client Relationships
Mobile apps are best for enhancing communication with existing customers, say experts.
"When I think of a mobile app, companies with a lot of repeat customers benefit the most," said Zantzinger. "If you're going to have an app that lives ever-present on someone's phone, that app provides businesses with new marketing opportunities to reach out to customers again and again."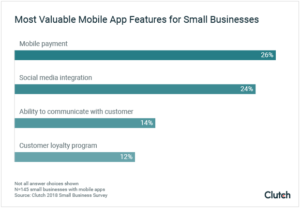 Mobile apps work well for businesses with loyalty programs. Mobile apps can keep track of rewards points, send push notifications on discounts and new products, and offer other functionalities that make existing customers even more invested in your small business.
Clutch's 2018 Small Business Survey includes 351 small business owners and managers. The small businesses surveyed have between 1 and 500 employees, with 55% indicating that they have 10 or fewer employees. More than half (57%) reported annual revenue of less than $1 million.
Source: Clutch