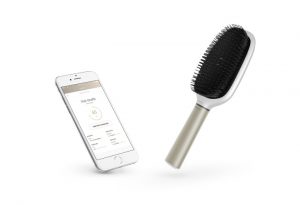 L'Oréal-owned Kérastase has partnered with Nokia's digital health firm, Withings, to create a smart hairbrush. The brush features sensors that score the quality of hair and monitor the effects of different hair care routines. The brush is accompanied by a mobile app to provide additional insights.
The brush, made in collaboration with L'Oréal's research and innovation technology incubator, aims to inform the brusher with insights to their hair through various features. The brush is said to include a microphone that listens to the sound of hair brushing to identify patterns – which can go as far as providing insights into split ends. Three-axis load cells measure the force applied to hair. An accelerometer and gyroscope count brush strokes and conductivity sensors are said to determine whether hair is dry or wet to provide an 'accurate hair measurement'.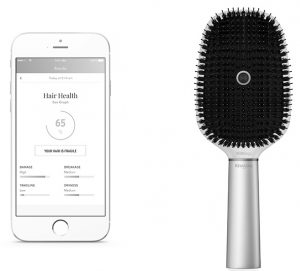 The sensors are said to automatically feed data via wi-fi or Bluetooth to the brush's dedicated mobile app. This app takes into account weather factors, provides a hair quality score, data on effectiveness of brushing habits, personalised tips and product recommendations.
"Technology is transforming consumers' daily beauty routines, and smart devices have huge potential to impact how we care for our hair and skin," said Guive Balooch, global VP of L'Oréal's research and innovation technology incubator.
"By using connected technologies to upgrade the hairbrush — something the average consumer uses every day — Withings and Kérastase have reinvented what a person's relationship with their hair can look like and are showing how connected devices can revolutionise the beauty industry."
Source: Mobile Marketing Magazine