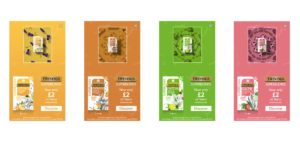 LoopMe, a global AI and brand advertising platform, has formed their first UK partnership with IRI, a provider of big data and predictive analytics, to optimise sales and advertising campaigns. To further brand marketing success, LoopMe has created the PurchaseLoop Sales product, which will enable users to advance purchase intent in real-time and obtain attribution of advertising spending.
Twinings will be the first company to adopt PurchaseLoop Sales, through their media agency, the7stars. The tea brand will use the ad solution platform to enhance their Superblends campaign, promoting green teas and other vitamin-infused blends. By using Purchaseloop Sales, Twinings will be able to "receive sales attribution through IRI, combined with real-time optimisation to purchase intent and detailed audience insights."
"Reaching our target audience with relevant promotional content at just the right moment is key to delivering an effective demand campaign," said Alex Jackson, digital marketing manager at Twinings. "Through LoopMe and IRI we've found a smart solution to achieve just that – tightening the path to purchase for our consumers whilst also giving us a tangible and attributable return on our investments."
PuchaseLoop Sales will be working conjointly with LoopMe's multi-award winning product, PurchaseLoop Brands, which focuses on optimizing purchase intent. During the campaign, PurchaseLoop Brands platform creates models reflecting real-time advertising data, enabling brands to modify ad solutions to further resonate with consumers who are most likely to purchase Superblends products.
After the campaign, "IRI Sales Lift provides sales figures, reporting on incremental sales, media ROI and sales uplift". Along with PuchaseLoop Sales and PurchaseLoop Brands, PurchaseLoop Visits aims to optimise campaign foot traffic.
"Recent research from Xaxis found that 71 per cent of marketers think it's become more difficult to evaluate the effectiveness of their digital media investments in recent years. This is simply not good enough, given that digital media accounts for 63.8 per cent of ad spend," said Stephen Upstone, chief executive officer & co-founder of LoopMe. "LoopMe continues to focus its product developments on media metrics that really matter, whether this is awareness, visits and now sales. We're thrilled to have Twinings as our first client and look forward to sharing the independent, measurable results soon."
Carl Carter, head of marketing strategy & effectiveness at IRI said: "We work with many brands and advertising solutions in media attribution, but we're particularly excited to work with LoopMe. The fast pace of adtech has seen many players come to market with purported 'unique capabilities' to deliver sales to FMCG brands. LoopMe's technology and the benefit it can bring to brands has become apparent through the partnership and we want to help our clients make the most of their advertising spend. The best way to do this is through impartial sales-based analysis to quantify the impact."
Source: Mobile Marketing Magazine