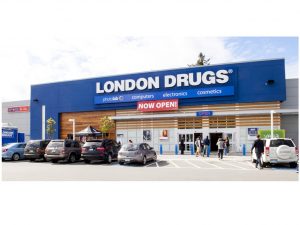 London Drugs has launched a new Photolab app that allows free and easy upload and printing of photos direct from a mobile device and social media accounts.
"The Photolab app was designed to satisfy Mobile Phone and Tablet users' growing appetite for easy mobile printing from their personal devices while they are in "the moment" or at that special event," said Andy Kahrmann, London Drugs imaging business unit manager.
"More and more people are opting to use their mobile devices to store their captured images from their phones or transferred images from their cameras, and many are looking for a simple way to have their photos professionally printed on the go. The LDphotolab easy-to-use IOS App allows users to upload photos straight from their device's camera or upload from their Camera Roll, and order prints in seconds."
For those customers who already use the London Drugs Photolab website to order prints online, they will be able to sign into their existing Photolab Account and place orders from their Collections. Sign-up is quick and simple for new users with prints being offered for as low as 39 cents.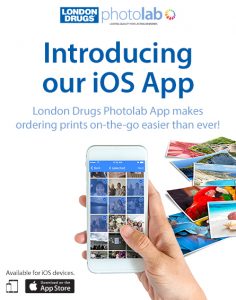 To provide customers with an extensive list of printing options straight from their mobile devices, London Drugs has added print options in a wide variety of sizes and styles. The app offers glossy and pearl prints, photos with borders, enlargements, and even fine art prints including bamboo, canvas and metallic prints. For those hoping to print their favourite Instagram shots, the app also offers convenient square prints. Prints available on the app range in size from 4×4 to 24×96.
Users can pay for prints in-app or in-store, and choose between delivery or pick-up from a London Drugs location available through the app. Prints are available for pick up within 24 hours or less for prints, and up to 48 hours for enlargements.
iPhone and iPad users are now able to download the Photolab app from Apple's App Store. London Drugs has announced they will be soon be rolling out more features and updates, as well as an Android version of the Photolab app.
Source: Drug Store News