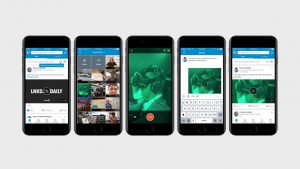 LinkedIn is continuing to diversify its product portfolio with the introduction of native video, as the online professional network's owner Microsoft seeks to bolster its fortunes.
The B2B network said that it would now begin the global rollout of its native video offering to its 500 million-plus user base after it began experimenting with the formats since last month.
The updated offering gives users key insights into which audiences have viewed their posts, including the top companies, job titles and locations of post viewers. In addition, those posting native videos on the network can get feedback on how many views, likes, and comments their posts have received.
In a blog post announcing the update, Pete Davies, LinkedIn group product manager, claimed those using the LinkedIn mobile app should look for the share box at the top of the feed (on iOS) or the post button (on Android) and tap on the video icon. From there, they can record a video in the app, or upload something they have recorded earlier.
He later went on to write: "With these insights you can better understand if you're reaching the people and companies that matter to you. You can find these analytics in the dashboard section of your LinkedIn profile on both mobile and desktop."
This announcement comes a month after the professional announced the launch of LinkedIn Website Demographics, a reporting tool that pulls professional data from its 500 million user profiles that helps marketers see what types of professionals are interested in their offering.
In its latest earnings call, Microsoft revealed that LinkedIn contributed $1.1bn in revenues to its overall performance, although it remains a loss-making operation for the wider organization, with the professional services outfit generating a $361m loss during the period.
Source: The Drum