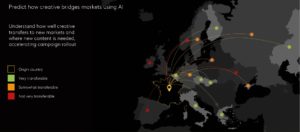 Data, insights and consulting company Kantar has unveiled four big data- and AI-based solutions. The company said the new offerings will help brands, advertising agencies and media companies more efficiently and accurately build and measure campaigns that have global impact.
The first is Context Lab. This is a platform designed to create synergy between creative and media strategies, answering the question 'How does content perform incrementally better in different media environments?' The platform can be used to optimise elements of a sponsorship; assess the value of branded content; evaluate boutique sites; choose the right creative for the right environment; understand the potential for influencer or social performance within a live feed; or optimise ad units for the environment in which they'll run.
Creative Transport is a toolset for forecasting how well creative executions
designed for one country will perform if transported to other markets. Kantar combines learning from historical ads and its (Millward Brown) Link database to produce AI-powered predictive models that guide where to reuse creative and where investment in new creative is needed. Kantar said that, in beta testing, clients have saved up to 30 per cent in reduced creative production costs.
Balanced Attribution enables marketers to balance short-term sales optimization and long-term brand equity growth, by enabling allows companies to find the right mix of online and offline channels for their marketing campaigns. Built on the experience of over 10,000 brand lift studies and enhanced with AI capabilities from Kantar's Analytics Practice and sales data from Kantar and its partners, Balanced Attribution aims to help clients optimise their marketing to the ideal balance between upper funnel brand objectives and lower funnel sales.
Finally, Enhanced Visual Analytics (EVA) is an online platform that analyses social media imagery at scale to help brand owners understand how their brand and products are being visually represented in broader culture. Combining AI and semiotics expertise EVA is designed to enable companies to understand the equity their brands have in culture and help them create great content and track brand equity.
"Today's launch illustrates clearly how…innovation delivers meaningful impact for our clients across the whole marketing cycle," said Kantar CEO, Eric Salama. "From understanding how your brand is perceived and used by consumers in social media, to ensuring investments are repurposed or directed to the right channels through to calculating ROI, it is clear AI is beginning to have a significant impact in the world of marketing."
Source: Mobile Marketing Magazine