Jaguar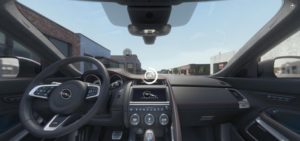 and EasyJet are among the brands that have run virtual reality (VR) campaigns using 360-degree video ads through OmniVirt's self-service platform.
The video ads let users rotate their smartphone or click and drag their mouse to explore the inside of the brands's car or plane in a more immersive fashion. 360-degree video is the quickest and easiest form of VR that doesn't require high production costs or complicated editing, the company said.
Production agency MaramuraVR created the immersive videos for Jaguar and EasyJet on OmniVirt's platform by uploading 360-degree footage, embedding interactive hotspots into the footage for users to view information about features, and choosing the type of ad to place among a network of publishers.
VR technology has been hyped as a way to immerse people in completely computer-generated environments, but it has been overshadowed in the past year or so with the growing popularity of augmented reality (AR), which overlays digital images on a real background seen through a smartphone camera. AR has proven to be less expensive and less resource-intensive for brands to develop as part of their broader digital marketing strategy.
Smartphone apps are more likely to provide consumers with their first VR experience, with inexpensive headsets like Google Cardboard or 360-degree videos that have been dubbed by some as "VR-lite." As OmniVirt points out, the 360-degree videos can be shot and uploaded quickly without requiring the extra expense of specialized coding experts. These immersive videos, along with AR, have so far been more mobile-focused as significantly more consumers own a smartphone than they do pricey headsets like the Oculus Rift.
This isn't the first time Jaguar has tapped novel technology to engage consumers on smartphones. Last summer, Jaguar Land Rover enlisted mobile AR to give car shoppers an in-vehicle tour of its latest SUV two months before the car model was released for sale.
Source: Mobile Marketer