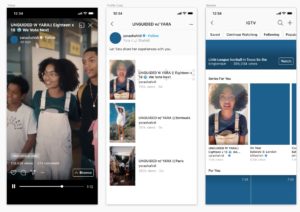 Since being launched in 2018, IGTV, Instagram's long-form video platform, has accumulated a large creator base with loyal fans that look forward to new videos each day. Instagram is rolling out a new series content tool for those creators, which will allow them to organise their videos into a series, with a consistent title and theme.
Using the tool, creators can organise their videos on a separate series page, as well as label each video with the series title, so it isn't confused for any of their other IGTV content. Viewers will benefit from the tool as well, as they can now turn on notifications for when their favourite creators add new IGTV videos to a series.
Another new feature is continued viewing, so once an episode from a series is over, the next episode will automatically play (if available). Creators including Yara Shahidi, Kade Speiser, Igrid Neilsen and Jameela Jamil have already started using the new series content tool.
When creators upload a new video, they can simply select "Add to Series" and select the series on IGTV. If the creator hasn't made and series yet, they will be asked to choose a title and description for the series. Existing content can be added to a series by selecting the IGTV tab on their profile, and then selecting "Edit" and "Add to Series".
Source: Mobile Marketing Magazine