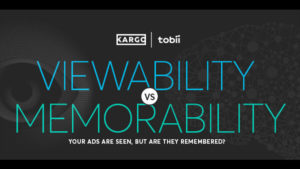 Kargo, a mobile brand advertising company, has just released its new Viewability vs. Memorability report, which reveals which advertising channels spark the most interest and user engagement based on viewability methods. For the study, Kargo partnered with Tobii Pro Insight, which uses eye-tracking technology to determine what ads are being remembered by consumers, and which ones are being easily forgotten.
Kargo found that Instagram had one of the highest levels of ad effectiveness, even with a low share of session. Instagram ended up generating an ad effectiveness score of 10.8 per cent, even though the amount of time users actually looked at ads during a session on the app was only 1.9 per cent.
According to the study, 77 per cent of users looked at an ad at some point during their session on Instagram, which was 8.3 times more effective than gaming ads, and 5.4 times more effective than desktop ads.
Kargo's report also revealed that users paid the most attention to larger format mobile in-article ads and mobile pinned ads, measured at 4.1 per cent and 3.9 per cent, respectively. Interestingly enough, Instagram and the larger format in-article ads were tied for most ad effectiveness, while mobile pinned ads came in third in ad effectiveness at 3.9 per cent.
The study also found that the least effective ads were gaming banner ads, which were overlooked almost 98.5 per cent of the time they were in view. Gaming banner ads earned an ad effectiveness score of 1.3 per cent, as participates had the hardest time recalling any specific brands or products being displayed within the games.
"In order to deliver a successful ad experience today, brands need to consider if their creatives actually depict a clear message and resonate with consumers," said Harry Kargman, CEO and founder, Kargo. "Our research shows that factors such as ad creative, messaging, placement and the digital environments in which brands advertise in can lead to building greater brand awareness. The fragmentation of today's media landscape has changed consumers' consumption habits, and in order for brands to break through today's attention economy, it takes nothing short of "thumb-stopping" creative to garner recognition."
Source: Mobile Marketing Magazine