This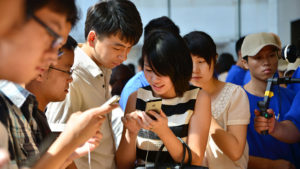 year, for the first time, adults in China will spend more time with their mobile devices than they will watching TV, according to eMarketer's latest forecast.
Adults in China will spend 2 hours, 39 minutes a day on mobile devices in 2018, up 11.1% over last year, accounting for 41.6% of their daily media time. By comparison, adults will spend 2 hours, 32 minutes per day watching TV, down 2% over 2017, representing 39.8% of daily media time.
Digital video viewing is a key driver of increased mobile time. We expect adults in China will spend 58 minutes per day watching video in 2018, up nearly 26% year over year, making up more than a quarter of their digital time. By 2020, adults in China will spend almost a third of their daily digital time watching video.
The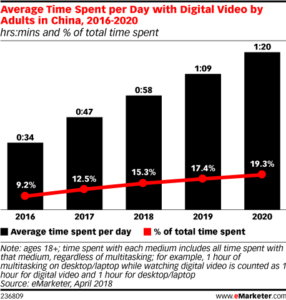 popularity of video has been boosted by innovation in the marketplace, particularly by platforms owned by the so-called BAT companies—Baidu's iQiyi, Alibaba's Youku and Tencent's Tencent Video—which have created their own original content to drive viewership and subscriptions. Short videos, most commonly viewed via smartphone, have also helped to drive usage. In addition, the BAT companies have announced investments into short video content during the past year.
"eMarketer's forecasts are showing that in China, time spent watching TV will experience accelerated declines, with TV viewership falling further in lower-tier cities," said Shelleen Shum, forecasting director at eMarketer. "Audiences increasingly consume digital video within platforms that provide a greater variety of content and allow for on-demand viewing. Faster networks and the proliferation of smartphones allow consumers to watch or post videos in between other daily activities.
"Beyond long-form content such as dramas, short videos—both professionally and user-generated—have witnessed explosive growth in the past year," she added. "Short video apps like Xigua and Kuaishou have received heavy investment in the past year to help commercialize its content. Ecommerce and news aggregator apps have also used short video content as a way to increase engagement among users."
Source: eMarketer