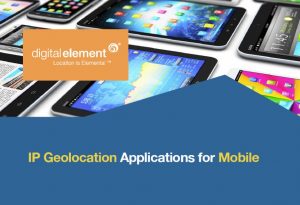 Digital Element, one of the leading provider of IP geolocation technology, announced Improve Digital, the all-in-one advertising platform for publishers, content providers, and broadcasters, has adopted its NetAcuity Edge hyperlocal targeting solution to ensure its customers can serve the right ads, to the right audience, in the right location.
Digital Element's technology has been integrated into 360 Polaris, Improve Digital's full stack monetisation technology platform for video, web, and mobile content providers. This programmatic advertising solution integrates both a premium ad server and a supply side platform to help content providers maximise revenue in a fully transparent way. Improve Digital has more than 250 media partners, and works with major brands including Hearst, eBay, IDG, and more.
Improve Digital selected Digital Element to increase the granularity and accuracy of its geographic targeting data and meet the growing demands of its premium clients and their advertisers. The 360 Polaris technology works across all formats and devices – incorporating video, native advertising, rich media, and display ads – so it is vital Improve Digital can identify the consumer's location to serve accurately targeted and correctly optimised ads.
By incorporating the NetAcuity Edge technology, Improve Digital allows its clients to better understand their customers' locations and provides unrivalled targeting precision for video advertising across multiple devices. Also the deployment of additional Digital Element databases connection type, ISP and mobile carrier provides supplementary targeting capabilities.
"Our business is built on providing accurate insights into high-value ad inventory and audiences, being a trusted and transparent partner to our clients and serving the best interests of publishers, content providers, and broadcasters," commented Garry Turkington, Chief Technology Officer of Improve Digital.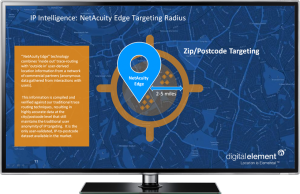 "The quality of service we provide depends on a reliable, transparent, and trusted source of data, and Digital Element's geolocation technology broadens and complements our product offering both globally and locally, further elevating our position in the marketplace."
Digital Element's NetAcuity Edge combines traditional infrastructure analysis with insight gleaned from a network of global commercial partners to better map the internet. The result is the most granular and accurate hyperlocal geotargeting solution that maintains user anonymity and complies with the highest standards of end-user privacy.
Charlie Johnson, Digital Element's Vice President, UK & Ireland, commented: "Improve Digital is a leading player in the video advertising industry, and their ability to provide a premium service for content providers is reliant on high quality data to form accurate targeting profiles. This will be made possible by the integration of our exceptionally granular hyperlocal data into the 360 Polaris platform, and we look forward to helping them achieve the standards expected by their impressive client base."
Improve Digital joins Digital Element's portfolio of high-profile clients which includes: Disney Interactive, Sony Pictures, CNN, BBC, ESPN, Channel 5, Hulu, CBS Interactive, YouView, Turn, Videology and Teads.tv.
Source: Digital Element