As part of the IKEA "Make Room for Nature" campaign, which encourages Polish consumers to think about the role of relaxation in their everyday lives, Saatchi & Saatchi IS produced a series of innovative audiovisual material.
They recorded whispered and sensuous sounds, generated by touching IKEA products. Through these sonic experiences, viewers were able to feel ASMR (Autonomous Sensory Meridian Response) and become pleasantly relaxed.
The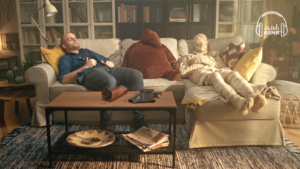 campaign features an 8-minute film, a series of social media posts, a playlist of 12 tracks featuring the relaxing sounds of IKEA products along with a website containing dozens more sounds produced by creatively 'playing' IKEA furniture, influencer content, and a radio spot. Within the first 24 hours after the launch, the ASMR video had entered the YouTube top ten in Poland.
"Today, we're always hearing how we must be active all the time, to be on the move non-stop, so as not to waste even a minute. But we believe that we should slow down, and that we deserve to. After all, when you do nothing, you in fact do an awful lot – you have time to recharge your batteries, make important decisions, and simply enjoy the moment. Let yourself relax naturally with our products, which, as you can see (and, in this campaign, even hear) complement the process perfectly," said Bartosz Binczewski, IKEA.
"There are global trends that are not always obvious choices for marketing campaigns, one such trend is ASMR. For the first time in Poland, we made use of this somewhat 'quirky' phenomenon to create a campaign that gave people a real sense of relaxation," said Patrycja Lukjanow, S&S.
The campaign was produced by Saatchi & Saatchi IS, in collaboration with Tank Production, Black Rabbit, Hash.fm, Garden of Words, Ztudio&Burza and GFD.
Credits: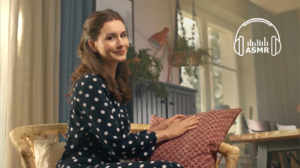 Deputy Creative Director: Partycja Lukianow
Creative team: Dagmara Grzanka, Paweł Jan Nowak
Production: Madalena Rogalska, Maria Golosz
Production: TANK/ Marcin Borkowski
Client Service: Inez Schmidt, Agnieszka Sztandera
Sound: Ztudio&Burza
Direction: Wojtek Jezowski, Makary Janowski
Photos: Łukasz Suchocki
Edit: Piotr Jurewicz
Design: Ewa Rejszel, Paweł Samul, Kamil Cicirko, Tomek Rdest
Strategy: Kasia Jasińska
Cast: Grupa Filmowa Darwin, Alicja Karluk
Scenography: Katarzyna Jaros-Puzio (IKEA) oraz Olak&Brudz SetDesign
Source: Saatchi & Saatchi IS