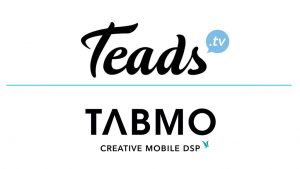 Teads, the inventor of outstream video advertising and the number one video advertising marketplace in the world, announces an integration with Hawk, the mobile creative DSP for video, display and native advertising.
The integration enables trading desks, agencies and advertisers access to all Teads premium publishers and inventory on mobile devices across the world through the Hawk Mobile DSP. Teads' global premium marketplace includes publishers such as The Washington Post, Time Inc., The Atlantic, Forbes, Bonnier, Mashable, Slate, Newsweek, The Telegraph, Le Monde, Corriere della Sera, El Pais, El Universal, and Nikkei, amongst many others.

Built by TabMo to be the next generation mobile DSP for agencies and advertisers, Hawk is the first mobile programmatic platform to manage both the entire purchasing process and the broadcasting of mobile advertising campaigns on mobile devices in real-time. With offices around the world, this latest partnership makes new sources of inventory accessible to Hawk users in all territories where Teads is present.
Todd Tran, Head of Mobile and Programmatic at Teads said:

"We're excited to be able to bring Teads' premium inventory to an even larger audience with this integration. More and more advertisers are seeking video formats that are truly cross device, viewable, engaging, and in premium editorial environments, and together with Hawk we'll be able to meet this rising demand with outstream video."
Hakim Metmer, Founder of TabMo adds "We are delighted to join forces with Teads, allowing our partners using our self service DSP to access more premium video inventory across the world. This is an exciting time for TabMo, as we are also launching the US market with new offices in New York, Chicago and Los Angeles."
Source: Teads