Google
is testing a new ad placement: ad cards right in the Google Feed. The Google Feed cards look like all the rest, except for a small green "Ad" badge in the bottom left-hand corner.
Some users started seeing the new ad cards this week without warning, as first reported by Android Police. A Google spokesperson confirmed that this was a test and then provided the company's boilerplate statement for exploring new potential revenue streams: "We're always testing new ways to improve our experience for our advertisers and users, but don't have anything specific to announce right now."
For those who can't keep up with Google's various rebranding efforts, "Google Feed" refers to the Feed section in the Google app for Android and iOS. It was once called Google Now and displayed "Now cards" — predictive cards with news, location information, and various daily updates. All that still exists — Google just renamed it "Feed" around October 2016.
Google's desire to test advertising in the Feed should not be surprising — ads drive most of Alphabet's revenue. As more users shift their behavior from googling to getting what they need directly in the Google app and from Google Assistant, Google is going to explore new advertising avenues.
And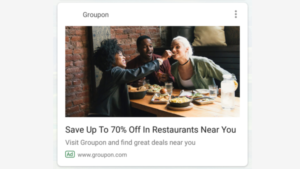 yet users who are getting these ads are understandably complaining on social networks. This is a natural reaction to any additional advertising — and in this case the ads are arguably pretty obtrusive. On some Android phones, you can access your Google Feed by simply swiping on your home screen.
The test will likely run until it hits statistical significance. Then Google will look at the results and see what it can tweak to improve the ads. If the company finds that users are largely indifferent to ads in their Google Feed, you can bet some version of this test will roll out broadly.
Source: VentureBeat