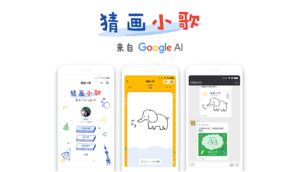 Google has launched an AI drawing game as a 'mini app' within Tencent's WeChat messaging platform, as it continues to make overtures towards re-entering the consumer market there. The majority of its products, including its internet search engine, email and app store, are currently blocked by Chinese authorities over censorship concerns.
Last year, Google launched its Google Translate app in China, and in May of this year, it introduced a file management app to several app stores run by local Chinese firms. The latest release in China is Caihua Xiaoge, a drawing game based on the firm's AI image recognition technology.
The release of the game builds off a patent licensing deal between Google and Tencent that was announced at the start of the year, which aimed to see the two companies collaborate on a number of projects. Google also recently invested $550m in JD.com, China's second largest eCommerce firm, which Tencent is also a substantial investor in.
WeChat's ecosystem includes a huge number of mini-apps from other businesses, including some by other foreign firms like Starbucks. While mini-apps were only launched last year, the platform has been used for services including mobile payments, bill paying and food delivery for years by Chinese consumers, and boasts hundreds of millions of daily active users. If Google is able to tap into the mini games community on the platform, it could prove a valuable toehold for the firm.
Source: Mobile Marketing Magazine