What if your Instagram feed was all around you as you walked through the city?
That's the challenge GS&P Labs, Goodby Silverstein & Partners' in-house innovation department, tackled with its new prototype, GRAMAR.
The new prototype fuses Instagram and ARKit by turning Instagram photos into 8ft x 8ft images and places them in the world around you via augmented reality. Users can then spawn content from their favourite accounts and experience them like never before on street corners, down sidewalks and even within buildings.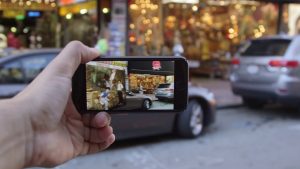 "Technologies like AR and VR are finally accelerating, and we spotted an awesome opportunity to hack this medium, bringing the social world into the real world," said Troy Lumpkin, creative technologist, GS&P LABS.
"Having an in-house innovation department like GS&L Labs that experiments with technology is critical today," said Margaret Johnson, Chief Creative Officers, GS&P. "We excited to unleash GRAMMAR out into the world, along with a host of new experiments in the future."
Though the prototype is still in development, GS&P Labs plans on developing an Android build and releasing it soon to the world.
Source: GS&P