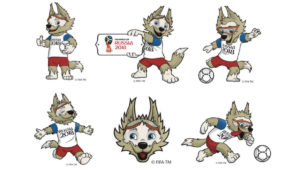 As the World Cup continues to roll on, FIFA has joined forces with Snapchat to provide fans with more ways of showing their excitement during the tournament.
Through the partnership, Snapchatters around the world can decorate both their photo and video Snaps with 2018 FIFA World Cup Russia branded augmented reality (AR) lenses, filters, and stickers – some of which feature the official tournament mascot, Zabivaka.
"We wanted to give fans something fun and unique for this edition of the FIFA World Cup," said Philippe Le Floc'h, FIFA chief commercial officer. "In addition to our digital #WeLiveFootball campaigns, we are excited to be working with Snapchat so fans across the world can use these new creative tools to share their experiences of the 2018 FIFA World Cup Russia with friends."
An exclusive AR face lens featuring Zabivaka can be unlocked by scanning a special Snapcode, while stickers can be accessed via the sticker drawer and filters are available in the Snapchat camera.
In addition, on the days of the World Cup semi-finals and the final, an interactive AR lens using 3D Bitmoji will be made available to fans around the world.
"We are delighted to contribute to FIFA`s fan engagement initiatives," said Ben Schwerin, VP of partnerships at Snap Inc. "We cannot wait for Snapchatters around the world to share their excitement for the 2018 FIFA World Cup Russia with their friends using the creative power of the Snap app."
The FIFA tie-up isn't the only extra that Snapchat is offering during the world's most watched sporting event.
The popular multimedia messaging app has also linked up with the likes of Adidas, Nike, Budweiser, and Three to offer users a variety of lens and Bitmoji-related ways to show off how much fun they are having during the World Cup.
In addition, there's a dedicated Our Story featuring celebrations posted by fans during the tournament alongside match action from the BBC. And there are also daily reports from publishers like Copa90, Sky Sports, Bleacher Report, The Sun, and The Telegraph.
Source: Mobile Marketing Magazine