Facebook's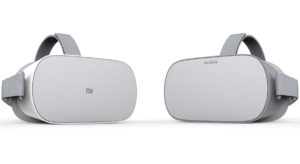 VR division Oculus has teamed up with Xiaomi to create a pair of standalone VR headsets with the aim of giving people more affordable access to VR.
The Oculus Go, which was first announced back in October 2017, and the Mi VR Standalone were both unveiled at the Consumer Electronics Show (CES) 2018.
"We are excited to work with Oculus on these standalone devices that exceed expectations in terms of performance at a very attractive price," said Tang Mu, VP of Mi Ecosystem and head of Mi Lab at Xiaomi. "Xiaomi has always relentlessly pursued the best user experience and price-to-performance ratio. For the best experience, we consider every minute detail. Through our collaboration with Oculus, we have integrated world-class technologies and craftsmanship to produce a VR standalone that lets people immerse themselves in another world without being connected to smartphones or computers."
Both headsets have been created in collaboration with Qualcomm – using the chipmaker's Snapdragon Mobile VR Platform for processing.
The Mi VR Standalone headset will be available exclusively in China, while the Oculus will be available around the world.
"The standalone VR form factor represents the next significant phase of VR hardware development at Oculus," said Hugo Barra, VP of VR at Facebook. "Through our partnership with Xiaomi, both Oculus Go and Mi VR Standalone represent our first step in delivering that sweet spot between mobile and PC VR."
Source: Mobile Marketing Magazine