Facebook has revealed its new premium video ad program, Facebook Showcase. It will give online video and TV ad buyers exclusive opportunities to advertise on Watch, Facebook's video-on-demand service.
As of now, Showcase is only available for advertisers targeting US audiences, but will eanble those ad buyers to access new tools such as In-Stream Reserve, In-Stream Reserve categories, and sponsorships. Using In-Stream Reserve, advertisers can pay a fixed cost for space in videos that are aimed towards in-target audiences verified by Nielsen.
In-Stream Reserve categories enables advertisers to pick from the specific audience interests they want to target, such as sports, fashion/beauty, entertainment, food, and news. Sponsoring a video will give advertisers the ability to be the exclusive sponsor for content, and specifically pick individual shows they want their ads in.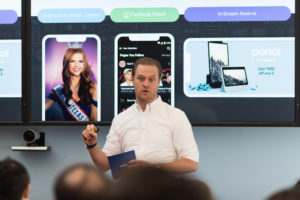 Facebook also announced the launch of multiple new shows via Watch, including an animated comedy series, Human Discoveries, starring Zac Efron and Anna Kendrick. The social media site is also partnering with MTV Studios to release a new, interactive version of MTV's Real World.
Through collaboration with Nielsen, Facebook says it will be able to help advertisers reach specific audiences they could not previously appeal to. According to Nielsen, in the past three months, 43 per cent of Americans who watched In-Stream Reserve-eligible content on Facebook were 18 to 34 years old, compared to 28 per cent of TV viewers.
"In-stream Reserve on Facebook has provided us another great opportunity to reach engaged audiences with our advertising. On a recent film campaign, the In-stream Reserve placements drove a 45-point incremental lift in ad recall. Now with Showcase, we'll have the added benefit of advance planning with in-stream reserve inventory," said Andrew Hotz, EVP of worldwide digital marketing at Warner Bros.
Source: Mobile Marketing Magazine