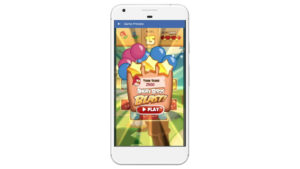 Facebook has launched three advertising solutions to help publishers of games reach players that are likely to make in-app purchases. Facebook is offering advertising solutions for marketers in the console/PC and mobile gaming industry.
Similar to AdColony, the first solution is a playable ad, which is available to advertisers and agencies that opt for the app install objectives when mapping out campaigns on Facebook. This format gives Facebook users the ability to play a preview of a game within their newsfeeds.
Rovio, the developer famous for creating the Angry Birds entertainment franchise, was among the alpha testers of the solution, achieving 40% savings in acquiring a paying player and a 70% lift in return on ad spend (ROAS) after tests, according to Facebook.
The second solution is focused on optimising player retention. Video and mobile game marketers can find lookalike audiences that have a higher likelihood to play games across genres.
The third solution allows advertisers and agencies to set a minimum ROAS bid in order to find users that are more likely to purchase in-game items, the primary revenue source for free mobile games, aside from in-app advertising. By September, Facebook will roll out minimum ROAS bidding to all eligible advertisers outside the domain of video and mobile gaming, with impacted platforms including the Facebook Audience Network and Instagram.
The solutions focus around players with a propensity to purchase in-game items, signifying a shift away from emphasis on app installs and toward an emphasis on extending the customer lifetime value.
Source: Campaign Live