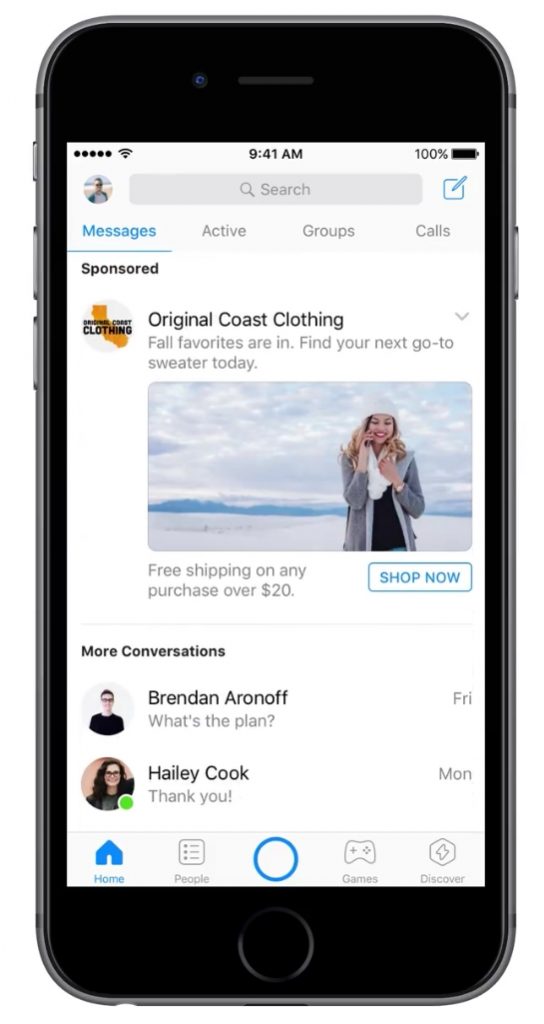 Facebook is launching display ads in Messenger globally, after tests in Australia and Thailand back in January.
As of July 11, businesses will be able to buy Messenger ads as an additional placement option when buying Facebook ads through the Adverts Manager and Power Editor platforms. Initially, only traffic and conversion objectives will be supported, with more options, like app install ads, due to be added 'soon'.
The ads will appear between conversation threads in the Messenger app, marked with a 'Sponsored' tag. If users tap on the ad, they'll be taken to a website or a Messenger conversation with the brand.
This launch is technically a beta, with ads only initially shown to a limited number of Messenger users – but it's still a big step forward for Facebook, which has been trying to find a way to squeeze ads into the more intimate arena of private messaging for years.
It started to open up Messenger to brands back in 2015, with the introduction of 'click-to-message' ads, and the advent of its chatbot platform.
Talking about finding a way of making ads fit into Messenger, CEO Mark Zuckerberg said in 2015: "The long term bet is that, by enabling people to have good organic interactions with businesses, that will end up being a massive multiplier on the value of the monetisation down the road when we work on that and really focus on that in a bigger way."
Whether these display ads deliver on that promise is open to debate – and will no doubt provoke a reaction from users as they begin to roll out.
Source: Mobile Marketing Magazine