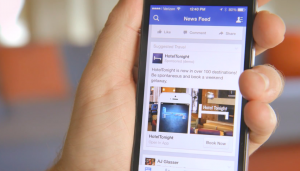 Facebook's booming mobile ad revenue is projected to continue growing through 2016 well into 2018 despite some setbacks in 2016 regarding how it measures video views.
In 2016, Facebook will raise around $21.98bn from mobile ads. 2017 will see a year-over-year increase of 35.2% to $29.71 and in 2018, $37.98bn, up 7.8%.
Increasingly more of this revenue will come from outside the US too, 54% in 2016, hinting at the success of its global growth strategy.
"Facebook is still going pedal to the metal when it comes to building out its products and services," said eMarketer analyst Debra Aho Williamson.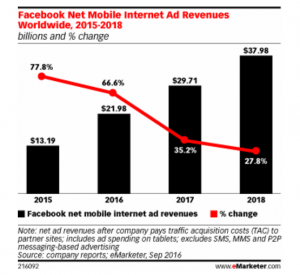 The company came under scrutiny earlier in 2016, after it admitted that its measurement metrics dramatically overstated video views, causing brands and advertisers to push for access to the data so they could oversee its content and buys.
On this, Williamson said: "Facebook had a hiccup in September… [we don't] believe the revelation will cause brands to pull back their Facebook spending, we expect that in the future there will be a push for more rigorous third-party measurement of ad performance on properties like Facebook."
Looking to precipitate further growth, the company is courting TV networks in an attempt to work with them, and work together on media budgets across each platform rather than compete.
Source: The Drum