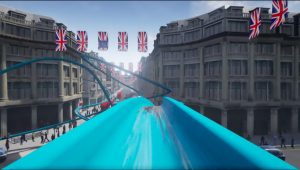 Elmwood, the world's most effective brand design consultancy, has opened Playroom, a digital experience hub powered by its recently acquired digital design agency, Framework Creative. Playroom is based at Elmwood's London studio and showcases the latest application of simulation technologies, including augmented reality (AR) and virtual reality (VR).
With adoption of AR and VR set to grow exponentially over the coming years, the interactive demo hub will provide Elmwood's clients the opportunity to experience first-hand how their brands' iconic assets can be activated and amplified across emergent virtual technology, blended and mixed canvases to better connect with their customers.
Steve Gatfield, chairman of Elmwood said: "AR and VR are the new frontiers of immersive experience. As designers of brand meaning we are hungry to help our clients redimensionalise experience and deepen engagement. In particular, we see opportunities for our clients to add incremental value to physical products as these technologies transform them into interactive media. We believe that these simulation technologies will significantly increase the iconic value of brands by enhancing product utility as well as brand recognition."
'Playroom' features a number of simulation technologies, including:
Mobile AR and VR;
Room-scale VR;
Tethered and Untethered VR;
NFC (Near Field Communication)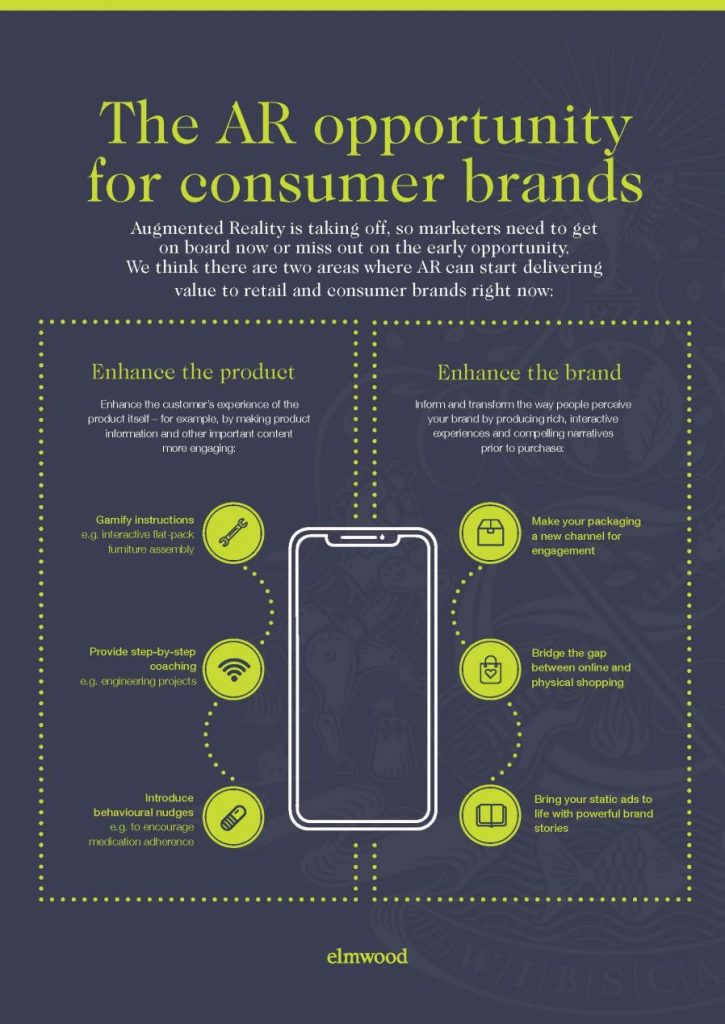 It features applications of these technologies in consumer, retail, travel, personal health and medical contexts, and further demonstrations tailored to client requirements will be added.
The VR & AR Opportunity for Brands
According to a recent report by Elmwood, simulation technologies like VR and AR are set to offer immediate value mainly for retail and consumer brands in two key areas. Firstly, they will add value where they enhance the customer's experience of the product itself. For example, by making complex product information and other important content more engaging through gamification, providing step-by-step coaching, or giving behavioural nudges, such as in the case of medication adherence.
Secondly, these technologies will take off where they can help brands inform and transform the way people perceive the brand by producing rich, interactive experiences and compelling narratives prior to purchase. This could include making packaging a new channel for engagement, bridging the gap between online and physical shopping, and bring traditional advertising to life with powerful brand stories.
VR Example: Topshop's Virtual SPLASH!
One featured application is Topshop's virtual Splash project. To launch Topshop's summer swimwear range in its flagship Oxford street store, Framework Creative created a giant VR waterslide – named SPLASH! – as part of the brand's shop window pool scene. Wearing an Oculus Rift headset, shoppers enjoyed a 360-degree ride on a virtual waterslide that twisted and turned above the buildings and buses of a bustling virtual Oxford Street. Virtual billboards and models introduced participants to the new swimwear range along the ride, before they were transported to a desert island sun lounger, where their adrenaline-fuelled adventure ended in a beautiful tropical scene.
The Topshop SPLASH! campaign ran for 11 days during which swimwear sales increased by 100% compared to the previous year. From a social media perspective, it generated 5.3 million views of the Snapchat lens; more than 2 million Instagram stories; 1 million Facebook impressions; 689,000 Twitter engagements; and over 3,000 people posted photos using the hashtag #TopshopSplash.
Elmwood-owner/vexillifer, Jonathan Sands OBE, commented: "When we acquired Framework Creative earlier this year we did so to boost our capability to create the most iconic brand experiences on the planet. Elmwood and Framework Creative have been working hand-in-hand in recent months creating proofs-of-concept for our clients and helping the brands we work for to unlock the opportunities that these new canvases provide for them. Our acquisition of Framework Creative, the launch of our creative and tech accelerator hub Elmwood LaunchPod and the opening of 'Playroom' are all part of Elmwood's aim to become the partner of choice when it comes to brand design in the digital age."
Roddy Roberston and Sam Fazakerley from Framework Creative: "We're really excited to have been able to create Playroom. We know that our clients often find it difficult to keep up to speed with the latest technologies and how to direct their shrinking marketing investments to make the most of the opportunities that they bring. Playroom gives our clients an opportunity to see how they can enhance the value of their brands through added product features or enriched brand experience and storytelling."
Source: Elmwood