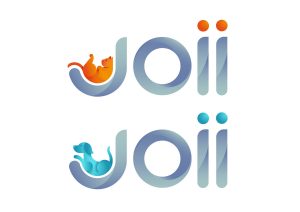 One of the world's most effective brand design consultancy Elmwood, has helped to create Joii, a ground-breaking mobile app which leverages AI and is designed to make looking after a pet more accessible, more affordable and more convenient.
The objective was to improve pet care outcomes by meeting the wants and needs of pets, pet owners and vet professionals while also accommodating the lifestyle pressures and stresses experienced by each.
To achieve this, Joii was created by a diverse team comprising veterinary experts, UX designers, lawyers, academics and strategists to ensure it satisfied pets', owners' and vets' requirements.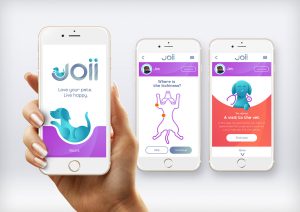 The app they created offers a personalised service which provides easy access to information and a recommended course of action when pet owners need advice. It also offers online consultations with vets and predictive and preventative animal care advice.
By using machine learning to improve pet care outcomes, it boosts animal welfare as well as the wellbeing of concerned pet owners and vets.
The multi award-winning design agency has supported in the development of the algorithm-based decision making tool as it goes to market, by providing advice around naming, brand proposition, brand strategy, design and brand world activation, including the app's look and feel and experience, its tone of voice guidelines, and social media activation.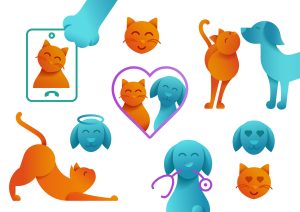 Elmwood has also taken a minority stake in Joii in exchange for on-going brand, design and marketing support.
"The Joii team sought to develop a brand with global reach that would connect with people in an emotional way. The aim was to avoid being overly technology focused, and instead to create assets that were memorable and iconic, sharing the story of togetherness and celebrating the joy of pets," explains Elmwood's Sarah Goldthorpe, the lead designer on the project.
The 'J' in the name reflects a cradle and is seen supporting a variety of pet characters, while the dots of the two consecutive 'i's represent the partnership between pet owners and vets.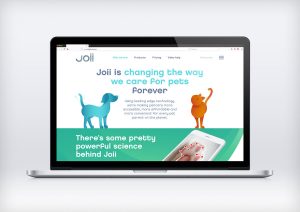 The pet characters – a dog, a bunny and a cat – also act as brand mascots and have names and mannerisms to bring them to life in the digital environment.
"Going to a vet can sometimes be scary. Our aim was to bring positive emotion into the brand assets, with a vibrant and optimistic colour palette. The flexible brand mark also allows for personalisation and provides further reassurance," adds Sarah.
The app offers a free symptom checker, free nurse clinics and remote consultations with vets for £20 – which is refunded should the animal need to visit a clinic. A number of pharmaceutical, healthcare and pet nutrition companies have already validated and supported the startup.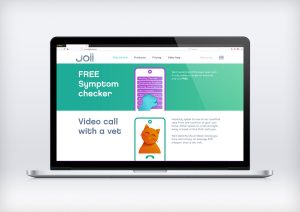 Mark O'Byrne from Hill's comments: "The idea is ground breaking. We wanted to be involved from the word go."
Paul Hallett, co-founder of Joii, adds: "The journey we went on with Elmwood was a detailed and rewarding process. We now have a distinct, a compelling brand story and a strategic partner. We stand in a completely different space to anyone else in our industry. Our assets are iconic and memorable, allowing us to build emotional engagement across channels."
Source: Elmwood