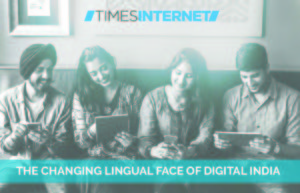 Times Internet has released a study titled 'The Changing Lingual Face of Digital India', highlighting the rapid shift of digital users towards regional content consumption.
With this study, Times Internet has successfully validated the rising trend of online content consumption across the eight most widely consumed regional languages in the country. To map the magnitude of this trend, online content consumption patterns of over 90 million netizens were evaluated, unveiling many future possibilities and the impact of content in regional languages.
Key findings include:
Out of the 90 million+ surveyed digital users, more than half are non-English readers and more than two third of Hindi readers are also reading English.
Regional languages have surpassed English with a 66% share in overall content consumption.
Across all regional languages, News as a genre sees the highest content consumption at 67%, followed by Sports at 17% and Entertainment at 16%.
Among female users, Gujarati language sees the highest online content consumption at 44.78%.
Results of the study highlight that content consumption in regional languages among younger audiences is fast growing, with consumption among Indians in the 25-34 age group being the highest.
India is inching closer to becoming a digital-first nation as affordable smartphones and low priced 3G and 4G connections are driving Internet penetration and digital literacy in the country. Access to high speed Internet connectivity is no longer restricted to metro cities, which is causing a massive shift in online content consumption patterns, across the country.
Source: Times Internet