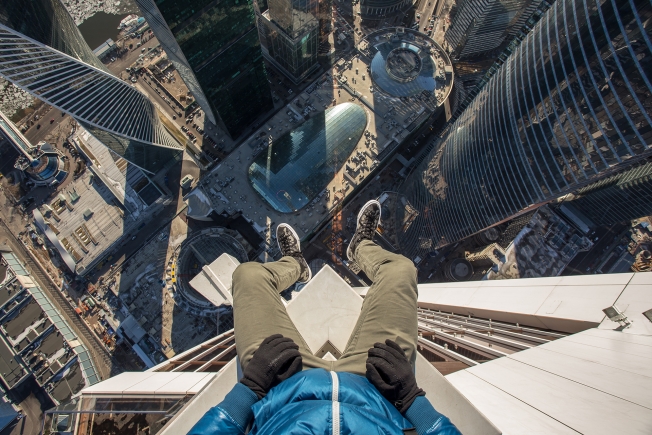 A new ad for the footwear brand Converse, features climbers Vadim Makhorov and Vitaliy Raskalov, who've made headlines in recent years for the videos and photographs they've shot from the top of some of the tallest buildings in the world, like Shanghai Tower.
To promote the Chuck Taylor All Star II line, they've scaled Moscow's Mercury City Tower, an 1,112-foot structure, and with agency Anomaly, turned the trip into an interactive mobile game. Players can follow cues to drag, scroll and press on screens to get a first-person view of the ascent—framed as an escapade—and ultimately see stunning views of the city below.
It's part of a larger Anomaly campaign called "Wear Tests," wherein the remodeled versions of Converse's classic shoe are subjected to what basically amount to demonstrations of how cool they are—that is to say, how good they look in a range of creative (or in this case, dangerous) scenarios.
The first video (below) in the series saw Spanish artist Francisco de Pajaro turning an abandoned hotel in Croatia into a giant playground for his popular "Art Is Trash" characters, created with found objects. A second featured punk duo Ho9909 ("Horror," stylized) in a music video probably best described as neon demonic, for their new song "Blood Waves."
All appear under the Chuck II's "Ready for More" tagline, which tries to package intense individuality, a tricky proposition for any mass brand. But in the context of this series—which includes a fourth video not yet released—it's a solid stand-in for thrill-seeking, not a bad position for a lifestyle brand that's putting out fairly entertaining content.
Source: AdWeek