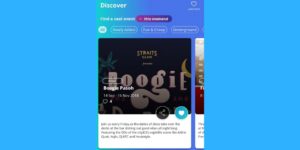 Digital telco Circles.Life has launched an AI-powered feature called Discover in its app to allow customers to explore interesting events happening around the city.
According to the Singapore-based telco, the more Discover is used, the smarter it gets in recommending events that users are most likely to go to. This new feature, which is personalised based on the interests of individuals is available for everyone, including users who are not Circles.Life's mobile customers.
It is optimised for local events in Singapore, enabling users to explore trending events in the country, customises the event suggestions based on the users' interests and allows users to share the events on social media, and invite their friends.
"Circles.Life is setting up the world's most personalised digital platform leveraging its innovative telco stack and proprietary data platform," said Rameez Ansar, the co-founder of Circles.Life. "Two years after the launch of what is now the leading no-contract mobile service in Singapore, we are taking a step further. Discover is the first AI-powered product outside our core mobile service. It is available for ALL users inside the Circles.Life app!"
Source: The Drum