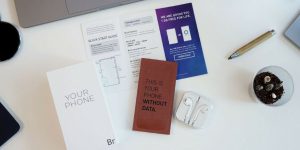 Circles.Life has unveiled a new campaign aimed at shifting perceptions of mobile users experience and shedding new light on what it means to be 'data deprived'.
The campaign was conceptualised from the insight that no matter how cutting-edge a new smartphone is, as major mobile brands across the globe announce their latest flagship phones, it is rendered useless without enough data.
As part of the campaign, the digital telco released the 'Brick Phone', made up of real bricks packaged in smartphone boxes, complete with accessories like earphones, screen protector and a SIM card extraction pin on 7 December.
These 'phones' were distributed to a select list of public figures and online personalities including technology bloggers to illustrate that a new phone without sufficient data, is only as good as a brick.
Beyond sending out the 'Brick Phones', Circles.Life partnered with VML Singapore to launch a bogus Kickstarter page and a teaser video on the telco's Facebook page featuring the new 'product'. The campaign will come to a climax during the week of December 18, with the full video posted on the Facebook page, parodying premium phone brand advertisements.
"The main challenge was that consumers were paying more attention to plan-subsidised phones instead of the actual data that came with it when purchasing mobile plans," said Joaquim Laurel, creative director of VML Singapore. "It was time we put a spotlight on how consumers hit a brick wall the moment they run out of data; that their experience is limited by the amount of data they have, and carrying the latest phone then becomes comparatively insignificant. It is about leveraging consumer attitudes, and translating that into a leading creative idea."
Source: The Drum