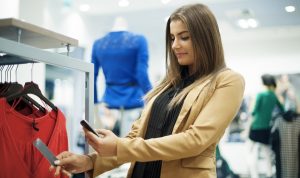 Black Friday 2017 is heading toward being the biggest mobile shopping day so far, as increased time spent in-app leads to more dollars spent across the retail spectrum.
Total time spent on shopping apps on Android devices is set to grow by over 45 per cent in the US from the two years prior, according to app market data and insights company App Annie, with over 6m hours spent in the top five digital-first apps alone. These digital-first apps are expected to account for 15 per cent total time spent in shopping apps during the full Black Friday week.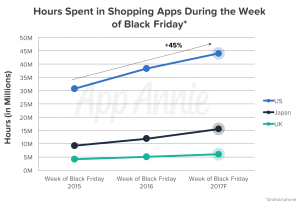 Meanwhile, the top five bricks-and-clicks apps on Android – despite not seeing the same levels of success as digital-first apps – are expected to see 30 per cent year-over-year growth in time spent.
"In order to be competitive with sophisticated digital-first players, traditional retailers need to prioritise mobile during this shopping period," said Lexi Sydow, market insights manager at App Annie. "It is imperative to leverage their physical locations as unique assets to complement user's in-app experiences. Partnered with app-exclusive deals, this could drive app engagement, in-store foot traffic and ultimately leave the consumer with a better brand experience.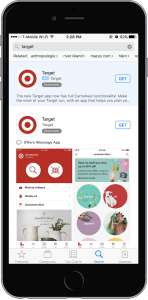 "Across the board, we expect retailers to double-down on mobile this year, leveraging app-exclusive deals, prioritising longer lead time for advertising and encouraging app use in-stores to complement traditional brick-and-mortar shopping. It will be interesting to see how retailers push app innovation even further this holiday season."
Black Friday is also set to be a good day for mobile outside of the US. In Japan, App Annie predicts total time in shopping apps on Android to grow 65 per cent from the two years prior to over 15m hours, while the UK will reach over 6m hours of time spent for a growth of 45 per cent.
Following on the back of it's extremely successful Singles' Day, Alibaba is expected to continue to make a significant impact on the international mCommerce front. The company's AliExpress sat at number one for shopping apps by daily iOS and Google Play downloads combined in the UK, France, and Germany on 11 November.
Source: Mobile Marketing Magazine