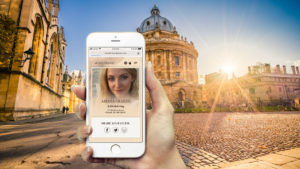 Island Records has partnered with locations-based experiences platform Landmrk to mark the release of Sweetener, the new album by Ariana Grande, with an innovative mixed reality campaign. The record label is expecting thousands of fans to travel to hotspots across the UK to unlock VIP prizes.
Fans can discover the various hotspots via a dedicated website, and upon arriving at the location, can decipher a code using both a local billboard and their phone. This code is then entered into the platform, giving them a chance of winning prizes including exclusive tickets to Grande's upcoming UK tour, Sweetener fan CD boxes, merchandise and location-specific selfie filters.
"Landmrk's platform truly shines when powering experiences for entertainers that have large amounts of committed fans," said Tom Nield, co-founder of Landmrk. "Our technology allows the creation of personalised experiences for dedicated fans in their locality, whilst simultaneously delivering measurability and insight to marketing teams."
Landmrk's platform will also create virtual billboards in addition to the physical ones, merging out-of-home advertising with a mobile experience that enables fans to enter the competition no matter where they live.
"We are constantly looking at ways to engage super fans in a way that makes them feel involved in the campaign rather than purely pushing content at them," said Claire Mas, head of digital at Island Records. "This is a great use of technology to merge both a digital and physical experience and also encourage UGC content that then spreads the word organically."
we've hidden @ArianaGrande Sweet Spots all over the UK! Click here to find your nearest one and enter the code to unlock an exclusive selfie filter and the chance to win a very special Sweetener ticket bundle 🍬🍬🍬https://t.co/Y2N2Qzhoil #UnlockSweetener pic.twitter.com/3PcikTWQub

— Island Records (@islandrecordsuk) August 28, 2018
Source: Mobile Marketing Magazine