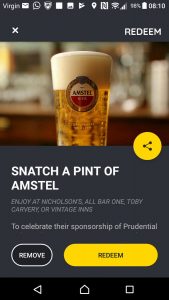 Dutch beer brand, Amstel, has joined forces with new mobile experience Snatch, to launch a UK-wide sampling campaign.
The augmented reality app will give away 10,000 free pints, redeemable in Mitchell & Butler outlets, to people who successfully 'snatch' and hold onto their prize for up to six hours.
The virtual treasure hunt app allows users aged 18 and over, to collect 'parcels' using augmented reality. Consumers then need to protect it from other players, who can snatch them, before the prize is revealed.
Ifeoma Dozie, brand director at Amstel owners, Heineken, says: "This is a fantastic app which allows us to engage with consumers in a completely different way using brand new technology. Friends will be able to compete with each other, and then enjoy a refreshing post-game pint….if they keep hold of it!"
The free drink can then be redeemed from various Mitchells & Butlers' outlets across the country including: All Bar One, Nicholson's, Vintage Inns and Toby Carvery.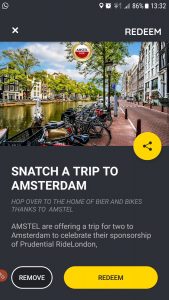 In addition to pints, Amstel will provide three holidays to Amsterdam and 20 bikes for players to win.
Phil Lloyd, Chief Customer Officer at Snatch, commented: "Snatch is about our brands engaging with consumers in a place they're accepted and welcomed, not interrupting them with advertising. Combining brand rewards, real-world gaming and AR is fairly new territory but it's powerful. Snatch will help trigger a call to action to go in-store (or in this case, a pub) and try Amstel. It also associates the brand with winning and will encourage consumers not just to engage but actively hunt down parcels in the hope they'll be rewarded.
Launched in February this year, Snatch has backing from Unilever Ventures – the investment arm of Unilever – and works with 100 top UK brands including Topshop, NOW TV, Pizza Hut and JustEat.
Source: Net Imperative