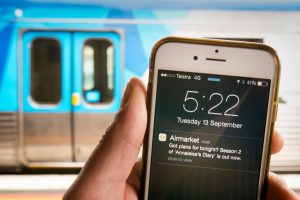 Airmarket announced a new advertising format that will revolutionise the way brands engage with customers on their mobile devices by combining hyper-location data with programmatic technology.
They will give advertisers access to a global network of beacons to deliver personalised, targeted advertising to consumers based on their real-time location. Device users will receive notifications on their screen even when they are not actively browsing the internet or using apps.
Advertisers will be able to buy beacon-triggered notifications on Airmarket in a similar way to how they currently purchase other programmatic media channels.
Airmarket has undergone more than 18 months of development and testing, and is connected to 600 Demand Side Platforms (DSP's) or trading desks that service more than 17,000 advertisers. By Q4 2016 those advertisers will have access to consumers in an initial 2000 locations in Australia and the UK.
Airmarket has also signed partnerships with major media and telecommunications companies to use the platform in the near future.
Jamie Conyngham, Airmarket Co-Founder and CEO, said Airmarket would deliver as much as 1500 times greater engagement with consumers than current mobile advertising formats like banner ads.
"At the moment, it's difficult for advertisers to buy location-based notifications on people's phones. They need to find someone with beacons, time it with their campaign and then have a widely downloaded app. Airmarket has made this process simple. Now all advertisers have to do is get their agency to buy notifications in the same way as they buy banners," Conyngham said.
Beacons are small sensor-like devices that can be attached to objects like vending machines, phone booths, awnings and supermarket fridges, that communicate with nearby smartphones and tablets via Bluetooth.
Programmatic advertising allows marketers to maximise their campaigns across digital mediums by automating parts of the deployment process. Airmarket will give beacon owners a new way to generate revenue from their infrastructure, as well as sharing revenue with application developers who choose to display notifications to users via their apps.
As part of the platform's launch, Airmarket has announced plans to float on the ASX through a merger with Cabral Resouces (ASX:CBS). Cabral Resources will seek to raise $3 million via an equity capital raising as part of the transaction.
Source: B&T Magazine