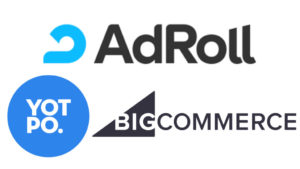 Merchants seek better tools to attract and convert shoppers online. In light of general shopping trends, 2.14 billion shoppers are expected to make the move to online by 2021.
AdRoll announced integrations with BigCommerce and Yotpo to help merchants seize this trend using AdRoll's suite of online marketing tools without needing to be a digital marketing expert.

AdRoll supports more than 37,000 ambitious direct-to-consumer brands to make their display, social, and email advertising work together to accelerate business growth. The platform intelligently manages and activates data from over a decade of online campaigns, with 1.2 billion unique digital profiles and insights from 476 million monthly shoppers.
Partnering with BigCommerce, a leading cloud eCommerce platform that helps merchants to create and scale an online business, brands will be able to generate dynamic ads aligned to their customers' journeys and path to purchase. Merchants can use AdRoll to recommend products through online ads and ad retargeting, promote their eCommerce stores across multiple channels, and increase customer discovery and segmentation.
"We often hear about backlash towards advertising, but today's customers are actually not opposed to being advertised to so long as it is relevant and targeted to their needs," said Russell Klein, Chief Development Officer at BigCommerce. "With AdRoll, BigCommerce merchants can now provide their customers a better buying experience by recommending products based on past browsing behavior. More than that, the tool unlocks a robust set of advertising features like automated audience creation and conversion tracking, giving merchants an easier way to effectively grow their business."
AdRoll's partnership with Yotpo, a leading commerce marketing cloud for reviews, visual marketing, loyalty and referrals, includes an integration that uses artificial intelligence (AI) to automatically match product images with star ratings and positive reviews for display ads. Customers who leveraged the AdRoll and Yotpo integration for AI-driven ad creative for the web and Google Display Network saw a 3x increase in CTRs.
"Brands have an incredible opportunity to stand out and connect with consumers by showcasing helpful information from their peers," said Raj Nijjer, VP, Marketing, Yotpo. "Today's shoppers gravitate to brands that are relevant and authentic. The powerful combination of AdRoll and Yotpo gives them seamless access to social proof to make brands more relatable, and ad campaigns far more effective."
"Adding BigCommerce and Yotpo to our growing list of eCommerce integrations helps us reach even more ambitious DTC companies," said Scott Gifis, President of AdRoll. "We each serve merchants that aim to grow by better reaching and serving their customers. To do this, brands and marketers must have a better understanding of the customer journey. We have the tools and data to get that understanding, so they can focus on boosting revenue."
Source: AdRoll